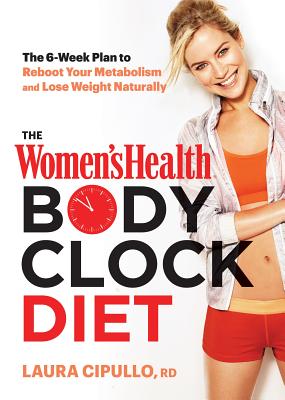 The Women's Health Body Clock Diet
The 6-Week Plan to Reboot Your Metabolism and Lose Weight Naturally
Hardcover

* Individual store prices may vary.
Description
You've tried all the diets and lost a little but gained back a lot! What's going wrong? Stop blaming yourself; it's not your fault, says nutritionist Laura Cipullo, RD. In all likelihood, your natural body clock is out of whack, causing hormone disturbances that pack on fat especially in your belly, butt, thighs, and arms. Resetting your internal clock is the answer to working with your body, not against it.

The Women's Health Body Clock Diet taps the latest scientific research on the interplay of chronobiology and hormones to help you adjust your body clock and other internal timekeepers for optimum health and fat-burning capacity. This three-phase plan will resynchronize a body wracked by dysfunctional eating, too much stress and stimulation, and disruptive sleep patterns. This book will provide you with:

• Three simple reset "buttons" that will rapidly shift your master body clock back into proper rhythm in less than 2 weeks
• A meal plan (one that says cookies are A-OK!) crafted by a registered dietitian and certified eating disorders specialist
• An hour-by-hour daily action plan to take advantage of your body's natural hormone "bursts" to burn more calories, reduce sugar cravings, and optimize sleep to whittle your middle

Using simple tools to stamp out cravings and identify nonphysical hunger cues, you'll establish a positive approach to healthy eating and weight loss that will keep you deliciously lean for life.
Rodale Books, 9781623366582, 272pp.
Publication Date: December 22, 2015
About the Author
Women's Health is an award-winning health, nutrition, fitness, and lifestyle magazine offering the latest expert-backed advice to women for more than 10 years.

Laura Cipullo, RD, CDE, CDN, CEDRD, is a regular contributor to various women's health and wellness-related media outlets on television, in print, and online. She's appeared on Fox & Friends, The Willis Report, Headline News, and several local New York shows such as CBS's The Couch and The Dr. Steve Show. Her writing has been featured in Fitness, Real Simple, Redbook, Cosmopolitan, The Huffington Post and Brooke Burke;s Modern Mom. Laura is a graduate of Colorado State University, where she earned her degree in Human Nutrition and Dietetics. She has held distinguished positions as Clinical Dietitian for New York-Presbyterian Hospital/ Weil Cornell Medical Center, Nutrition Coordinator for CEDAR Associates in Westchester and Rockland counties, and consultant for the Renfrew Center in both New Jersey and New York.
or
Not Currently Available for Direct Purchase