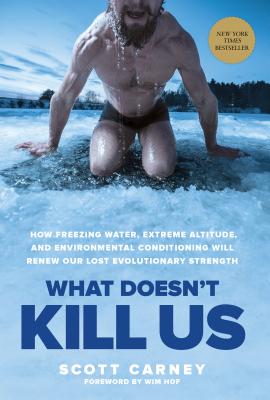 What Doesn't Kill Us: How Freezing Water, Extreme Altitude and Environmental Conditioning Will Renew Our Lost Evolutionary Strength (Hardcover)
How Freezing Water, Extreme Altitude and Environmental Conditioning Will Renew Our Lost Evolutionary Strength
Rodale Books, 9781623366902, 288pp.
Publication Date: January 3, 2017
Description
Every year, millions of people forgo traditional gyms and push the limits of human endurance by doing boot camp style workouts in seemingly raw conditions. These extreme athletes train in CrossFit boxes, compete in Tough Mudders and challenge themselves in Spartan races. They share a unifying ideology: the comforts of the modern age have made us weak and the key to human power is to recreate the original environmental conditions of our ancestors to regain our lost evolutionary strength.
They believe the human body is connected to its environment so if the environment changes, the body can change. Can our minds, through environmental conditioning, fundamentally hack our bodies for the better? No one exemplifies this movement better than Dutch fitness guru Wim Hof, whose remarkable ability to control his body temperature in extreme cold has sparked a whirlwind of scientific study.
In What Doesn t Kill Us, Scott Carney investigates the fundamental philosophy at the root of this movement in three interlocking narratives. He explores the science of human performance while he examines Hof and the movement's leaders, all while evolving from an ordinary desk guy to an extreme endurance athlete. The book follows Carney's own journey as he pushes his body and mind to the to the edge of human endurance including a record breaking, 28-hour, climb up Mt. Kilimanjaro wearing nothing but a pair of running shorts and sneakers.
About the Author
Scott Carney is an investigative journalist and anthropologist whose stories blend narrative non-fiction with ethnography. His reporting has taken him to some of the most dangerous and unlikely corners of the world. The New York Times says "Carney writes with considerable narrative verve, slamming home the misery of what he has witnessed with passion and visceral detail." He has been a contributing editor at Wired and his work also appears in Mother Jones, Foreign Policy, Playboy, Details, Discover, Outside, and Fast Company. He lives in Denver, CO.
Coverage from NPR
Advertisement