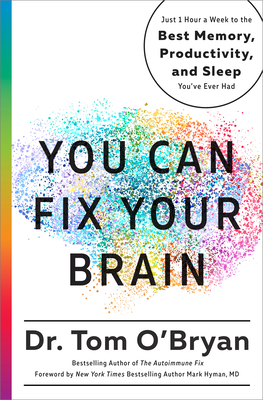 You Can Fix Your Brain
Just 1 Hour a Week to the Best Memory, Productivity, and Sleep You've Ever Had
Hardcover

* Individual store prices may vary.
Other Editions of This Title:
Paperback, Korean (8/21/2019)
Description
For anyone worried about any type of brain ailment, ranging from the chronic conditions to simple brain fog and fatigue, this essential guide covers the full spectrum of prevention to treatment.

We've all experienced brain fog—misplaced keys, forgotten facts, a general feeling that you're just feeling off today. And many of us will experience that "fog" manifesting as something more permanent—either in ourselves or our loved ones. 

No matter what your current brain health state may be, You Can Fix Your Brain will enable and empower you to take concrete steps that will make an immediate difference in your brain's vitality, clarity, and energy. Your memory will improve, fogginess will disappear, you'll be less tired all the time, and much more. And, you'll learn that these aren't empty promises. Dr. Tom O'Bryan, author of The Autoimmune Fix, knows how to create lasting changes in health, and he's here to share them with you.

It's a step-by-step approach to better cognitive function—being selective about what's on your fork, what's in your environment, and how you take care of yourself can make a world of difference. With only one hour a week of practice, in 6 months, you can say goodbye to brain fog and welcome a better long-term memory and a sharper mind.
Praise For You Can Fix Your Brain: Just 1 Hour a Week to the Best Memory, Productivity, and Sleep You've Ever Had…
 "Dr. O'Bryan masterfully guides the reader to the goal of achieving a better brain! Built on the most leading edge research in the neurosciences, the action plan presented in You Can Fix Your Brain is straightforward and easily implemented. This information, delivered at a time when we are basically empty handed with respect to a brain fix from the pharmaceutical world, gives the tools that can truly help improve brain function."
−David Perlmutter, MD, FACN, #1 New York Times bestselling author of Grain Brain and Brain Maker
 
"Read You Can Fix Your Brain if you want to improve your memory, attention, mood, sleep, and productivity. You'll look back years from now and be grateful that you took care of your brain."
—Sara Gottfried, MD, New York Times bestselling author of The Hormone Cure, The Hormone Reset Diet, and Younger
 
"You Can Fix Your Brain is likely the most practical guide to brain health available today. Dr. Tom does a great job taking cutting-edge research and making it simple to understand. Dr. Tom's book is unique in that it guides you to the most important steps for you using simple tests you can do at home. This book is also full of great recipes and suggestions for everything from exercise to managing EMF's. I highly recommend this book to anyone who wants their brains to age more gently and with less risk of disease."
—Alan Christianson, NMD, New York Times bestselling author of The Adrenal Reset Diet
 
"I've respected Dr. O'Bryan's work for years and he hit it out of the park with You Can Fix Your Brain. He makes a compelling case for just how important the gut/brain connection is and gives practical advice on how to optimize the brain and mental health for the long term. I couldn't put this book down!" 
—Katie Wells, creator and founder of WellnessMama,com and author of The Wellness Mama Cookbook

"Dr. O'Bryan's compassion and tremendous knowledge leap off the pages of this comprehensive guidebook to optimal neural and mental health that leaves no stone unturned."
−Sarah Ballantyne, PhD, New York Times bestselling author of Paleo Principles and The Paleo Approach
 
"Many useful insights here. An excellent resource for anyone who wants to do all that they can to heal and repair their brain!  Highly recommended."
−Terry Wahls, MD, bestselling author of The Wahls Protocol

"If you are feeling foggy, please read You Can Fix Your Brain today! Use Dr. Tom O'Bryan's new book to draw a clear road map to healthier, more vital, and clearer cognition."
—Jayson Calton, PhD, and Mira Calton, CN, bestselling authors of The Micronutrient Miracle

"Dr. Tom is always ahead of the health curve, connecting the dots in unique and insightful ways. In You Can Fix Your Brain, he brings together both the autoimmune and toxicity angles into optimizing brain health, which is scientifically solid and easy-to-follow with just a 1 hour a week time investment. He traverses the continuum from body to mind to environment with thoughtful techniques and quick tips. Follow the health pack with this incredible book!"
—Deanna Minich, PhD, FACN, CNS, IFMCP, author of Whole Detox and The Rainbow Diet

"This book is a must-read if you want to improve your memory and clear brain fog, have amazing sleep, reduce anxiety and ADHD, be productive, and even feel happier."
—Trudy Scott, CN, author of The Antianxiety Food Solution

"Once again Dr. Tom O'Bryan has crafted a resource that is equal parts inspiring and practical in helping people take action toward changing their health trajectory."
—James Maskell, founder and CEO of Evolution of Medicine

"Dr. Tom O'Bryan's new book gives you all the tools to 'fix it,' and perhaps take your brain age back several decades. What he proposes is easy to read and understand, even if your brain is not working well right now! There is hope as this book takes you on the journey toward revitalization. The commonalities of brain function, dysfunction, and treatment are very similar to cardiovascular disease, which is my specialty, and I know that these treatment recommendations will work for both. I strongly recommend this book to you."
—Mark C. Houston, MD, MS, associate clinical professor of medicine at Vanderbilt University Medical School

"I highly recommend Dr. Tom O'Bryan's new book. Yes, it is possible for you to not only prevent but reverse cognitive decline, and Dr. Tom has hit the nail on the head in his comprehensive approach to healing your brain!"
−Dr. Jill Carnahan MD, Teaching Faculty, Institute for Functional Medicine's course on Reversing Cognitive Decline
 
"Thank you for providing such a clear translation of the science, coupled with step by step ways for people to take charge of their health and healing--accessibility, practicality and empowerment."
−Jeffrey Smith, Founder, Institute for Responsible Technology, Author of Seeds of Deception and Genetic Roulette
 
"Dr. Tom O'Bryan's pioneering book, You Can Fix Your Brain, delves into the research linking inflammation and brain function. The text will give you all the tools you need to get your brain healthier and keep it that way."
−Dr. Steven G. Eisenberg, Medical Oncology & Hematology, Co-founder, cCARE.com, Creative Director,  DrSteven.com, Associate Producer, CancerMoonshot.com
 
"This book is a must-read for anyone interested in preserving brain health and preventing neurodegenerative diseases.  Dr. O'Bryan applies functional medicine principles and offers a comprehensive guide to healing the brain by healing the gut, reducing toxic load, and putting out the fire of inflammation.  It's filled with practical tips, personal stories and tasty, easy to prepare recipes."                 
−Sandra Scheinbaum, Ph.D., IFMCP, CEO, Functional Medicine Coaching Academy
 
"Tom O'Bryan has developed a simple, easy-to-follow guide to help memory and productivity. You can be sure if you follow the program your life will change for the better, and you will have extraordinary brain function. The book is so easy to follow and can motivate all of us to make the necessary changes in our lifestyle that will have long lasting effects."
−Marcelle Pick, OB-GYN NP, Author of The Core Balance Diet
 
"Dr. Tom has done it again! His brilliant new book, You Can Fix Your Brain is a must for anyone who's experiencing brain fog, memory loss and mood problems or for anyone who wants to prevent future brain issues. He masterfully explains the connection between brain inflammation, environmental toxicity and cognitive decline but also help you navigate through brain tests, tools, and tips to optimize your brain health for life...it takes only one hour a week! We can all work with that!"
—Dr. Susanne Bennett, #1 best selling author of "Mighty Mito" and "The 7-Day Allergy Makeover" and talk show host of Wellness for Life Radio on RadioMD and iHeart Radio
 
 
"Before you take any next step in your health journey, I recommend you read You Can Fix Your Brain and follow Dr. Tom O'Bryan's lead as a guide to better brain health. Just as he has helped thousands with their autoimmune health, he can help you achieve optimal brain health using functional medicine tools. With this new book, The science is solid, the recommendations practical, and the reader will be successful.  The format of the book flows in an easy to read manifesto of self-care that is full of insights and tips.  For everyone that has ever felt the loss of productivity and happiness from brain fog or lack of sleep--this book has the solution.  "
−Mark Menolascino MD, MS, ABIHM, ABAARM, IFMCP
 
 "Dr. Tom O'Bryan's new book, You Can Fix Your Brain, is highly informative. From exposure to toxins in the air, water, food, cleaning, and personal care products, mold, food sensitivities including wheat--which causes damage to your gut and thus potentially your brain in nearly every one of us--to poor diet, and unhealthy mindset, Dr. Tom really lays it out with a set of solutions to take back your brain health.  He even points out the importance of poor posture and spinal misalignments on affecting central nervous system function, which as a Doctor of Chiropractic, I especially appreciate."
−Ben Weitz, DC, CCSP, CSCS  Sports Chiropractor, Functional Medicine practitioner and host of the Rational Wellness podcast 
 
"There is no one as passionate, caring and devoted to educating people about the perils of gluten and the myriad mounting environmental triggers of autoimmune conditions as Dr. Tom O'Bryan. Dr. Tom fulfills a critically important purpose at a crucial time in human history. Today 1 in 5 people may already have one or more autoimmune conditions. The great news is these are reversible and preventable disorders; provided you remove/avoid your triggers and embrace nourishing lifestyle practices. Dr. Tom is the ideal guide to help you identify your personal triggers and get on the healing and prevention path. He does a masterful job making complicated concepts easy to understand through vivid metaphors, hopeful stories, and his vast personal experience. Dr. Tom breaks down important strategies into baby steps, providing a no-excuses plan to reverse and prevent these largely preventable conditions. If you want to live a long and healthy life, I urge you to read this book and be proactive with your health, one base hit at a time."
−Palmer Kippola, founder HealingisFreedom.com, functional medicine certified health coach, and former MS sufferer   
 
"Dr. Tom O'Bryan has a compassionate and enthusiastic style of sharing his amazing knowledge and experience. As a reader, you will be drawn into the stories, the highs, the lows, and the eternal truth that you can fix your brain. This book is loaded with powerful nuggets of information that are certain to move your needle of health in the right direction. Dr. O'Bryan has done a masterful job of making this important topic both interesting and practical. If your brain is too foggy to read, have someone read this book to you, it will change your life!"
−Sachin Patel, Founder, Living Proof Institute
 
 "Dr. Tom O'Bryan has done it again! Great science to help keep YOUR BRAIN great! Brain tissue is severely under attack in today's toxic world. Dr. Tom takes you on a grounded and effective journey so that anyone can understand autoimmunity and its link to brain health, and gives you exact steps to keep your brain healthy. Every 30 seconds an American is diagnosed with some form of cognitive decline, such as Alzheimer's disease. This dreaded disease, and even milder forms of cognitive issues like brain fog, are all preventable and fixable. Dr. Tom is one of the few (like myself) that combines the most up-to-date science into clear action-steps so that you can translate this research easily and effectively into daily life--for yourself or a love one."
−Dr. Devaki Lindsey Berkson, author of Hormone Deception, Safe Hormones, Smart Women, SEXY BRAIN and Healthy Digestion the Natural Way, and host of Dr. Berkson's Best Health Radio
Rodale Books, 9781623367022, 416pp.
Publication Date: September 18, 2018
About the Author
TOM O'BRYAN , DC, CCN, DA CBN, is the author of The Autoimmune Fix and an internationally recognized speaker and writer on chronic disease and metabolic disorders. Founder of the website theDr, he organized the popular Gluten Summit in November 2013 and a second one in May 2016. Dr. O'Bryan has more than 30 years of experience as a functional medicine practitioner and is an adjunct professor at the Institute for Functional Medicine. He lives in San Diego.