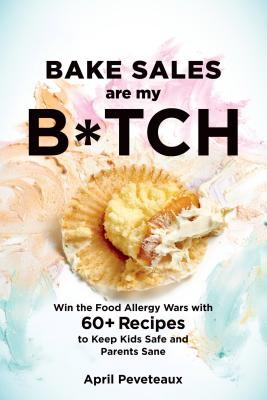 Bake Sales Are My B*tch
Win the Food Allergy Wars with 60+ Recipes to Keep Kids Safe and Parents Sane: A Baking Book
Paperback

* Individual store prices may vary.
Other Editions of This Title:
Compact Disc (4/11/2017)
MP3 CD (4/11/2017)
MP3 CD (4/11/2017)
Compact Disc (4/11/2017)
Compact Disc (4/11/2017)
Description
Living the food allergy life and having a kid who can't have dairy, tree nuts, peanuts, or soy is not easy. And neither is worrying about accommodating all the food requirements at a play date.

From avoiding major food allergens and respecting food preferences like vegetarian or vegan to being aware of religious practices like keeping kosher, making a simple snack resembles navigating a minefield. Thankfully, Bake Sales Are My B*tch is here to help.

April Peveteaux's 60-plus recipes cover the eight major food allergens and everything from school lunches, kids parties, sleepover foods, after-school snacks, and, yes, bake sales. In Bake Sales Are My B*tch, she gets into the nitty-gritty of food allergies, from deadly serious reactions to how to deal with those who don't take your kid's allergy seriously. Whether you're a freaked-out parent or not, Peveteaux lends some much-needed guidance—and teaches you to make party foods that'll be a surefire hit.
Praise For Bake Sales Are My B*tch: Win the Food Allergy Wars with 60+ Recipes to Keep Kids Safe and Parents Sane: A Baking Book…
"Bake Sales Are My B*tch should be required reading for any parent or caregiver of a school-age child, as it expertly—and quite humorously—spells out what's it's like living with the serious, constant fear of a life-and-death allergy attack while so many others laugh it away or simply don't "believe" allergies are a big deal. Pevetaux brings the same hilarious, no-nonsense stories and tales that made Gluten Is My B*tch feel as if you're just hanging out with a good friend—combined with some seriously yum recipes to boot! Buy it. Eat it. Love it."
—Mike Adamick, author of Dad's Book of Awesome Recipes, blogger at Cry It Out

"As a proud parent of a child with food allergies, Bake Sales are my B*tch, had me at the title page. Little did I know I would laugh until I myself broke out in hives. Literally. I don't think I've ever laughed so hard while reading a book.

April Peveteaux's hysterical allergen-ifesto isn't just a book for parents of kids with food allergies, it's for anyone who has ever accidentally served the wrong appetizer at a holiday party or judged another parent for their peanut paranoia. Yes, person who just rolled their eyes, I'm talking to you. You will love this book as much as I did. Swear."
—Rebecca Woolf, blogger at Girl Gone Child, and author of Rockabye: From Wild to Child

"Having a child with food allergies is challenging. Allergy moms need support to keep going, and a laugh every now and then to keep from killing people. Bake Sales Are My B*tch is the best allergy mom book EVAH! It's funny and educational and easy for anyone to pick up and understand."
—Leah Segedie, Mamavation.com
Rodale Books, 9781623367206, 240pp.
Publication Date: April 11, 2017
About the Author
April Peveteaux passed out from happiness when The New Yorker called her debut book, Gluten Is My Bitch, "highly entertaining." After she woke up, she went on to pen two more hilarious books about digestive disorders, The Gluten-Free Cheat Sheet and now, Bake Sales Are My Bitch. She lives in Los Angeles, CA.
or
Not Currently Available for Direct Purchase