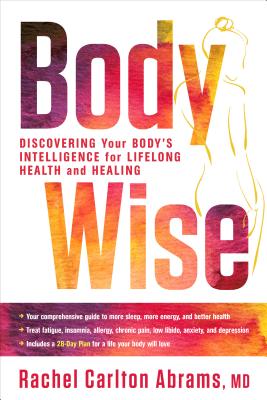 BodyWise
Discovering Your Body's Intelligence for Lifelong Health and Healing
Hardcover

* Individual store prices may vary.
Other Editions of This Title:
MP3 CD (6/20/2017)
Compact Disc (6/20/2017)
Description
Are you tired? Do you suffer from chronic pain—headaches, backaches, or other persistent discomfort? Do you experience depression or feel anxious? Do you have allergies or autoimmune issues? Have you lost your sex drive somewhere along the way? If you have one or more of these symptoms, you may be suffering from what Rachel Carlton Abrams, MD, calls Chronic Body Depletion—a condition that can be related to weight gain, high blood pressure, exhaustion, and many other symptoms that leave the body drained.

In BodyWise, Dr. Abrams helps us to understand that these symptoms, uncomfortable as they may be, are actually a sign of our body's intelligence. Our bodies are trying to communicate—sometimes screaming at us to pay attention—and only when we learn to listen are we able to treat what ails us to achieve optimum healing and lifelong health.

Dr. Rachel shares her customizable 28-day program, used with thousands of patients in her clinic, for healing the body both physically and emotionally. Through quizzes and detailed self-assessments, she explains how you can evaluate your own body wisdom for different areas in your life—including stress, sleep, libido, pain, anxiety, depression, allergies, and autoimmune issues.

Guiding you through thoughtful diet, routine, and lifestyle changes, BodyWise will help you discover your own unique needs and offer you the principles and practices to create the vibrant, balanced, healthy life you have always deserved.
Praise For BodyWise: Discovering Your Body's Intelligence for Lifelong Health and Healing…
"Bodywise is simply superb. And oh, so practical. It will convince you about how and why to make food and supplements your go-to medicines. I highly recommend this book."
—Christiane Northrup, M.D., author of the New York Times bestsellers Goddesses Never Age, Women's Bodies, Women's Wisdom, and The Wisdom of Menopause

"Bodywise quickly gets to the root of what ails you, showing how you can heal yourself by tuning in to what your symptoms are telling you. This is truly an extraordinary guide for becoming your healthiest self with the right combination of knowledge, self care, and sense of humor."
—Sara Gottfried, M.D., New York Times bestselling author of The Hormone Cure and The Hormone Reset Diet

"Rachel Abrams is a truly exceptional physician, who has the breadth of interest and intellect to consider a patient's entire experience, not just limited pathologies. Where many health books focus on limited topics, Bodywise considers a huge range of factors that may affect our wellbeing. Like its author, it offers abundant hope, wisdom, and practical measures to address a vast range of issues. I wish I could make Bodywise required reading for anyone who wants to live a full, rich, active, and healthy life."
—Martha Beck, PhD, New York Times bestselling author of Finding Your Way in a Wild New World

"Dr. Rachel Abrams has written the bible for any woman wanting to hear the wise voice of her own heart, mind, and body. You know those complaints women share with each other over lunch, like fatigue, anxiety, low libido...? Dr. Abrams gives practical, holistic and brilliant ways to alleviate each one. Best of all, she empowers women to trust themselves and lead in their own healing. I'm giving this book to my daughter and every friend I have."
—Julie Schwartz Gottman, PhD, Co-founder and President, The Gottman Institute

"Dr. Rachel Abrams is a lifelong expert on women's health, and her new book Bodywise is a revelation—a guide to achieving total health and wellbeing written with the authority of a world class physician and the warmth of a dear friend. Packed with specific treatment advice and a paradigm-shifting view of whole body health, this book will empower you to be the healthiest, and happiest, version of yourself."
—Mark Hyman, M.D., author of the New York Times bestseller Eat Fat Get Thin and director of the Cleveland Clinic Center for Functional Medicine

"With all the health and diet books flooding the market and ratcheting up our stress responses with overwhelm, it can be challenging for health-conscious individuals to know how to care for the body temple. Enter Rachel Carlton Abrams's Bodywise. It's not just that Rachel is the best doctor I know. It's that she has shown me that when you educate yourself about the many potential tools for enlivening your vitality and then tune into the deep wisdom inherent in your body's inner compass in order to discern what is right for you, you become your own doctor in ways no book and no physician can match. Whether you sense that your medicine is a nutritional shift, new tools for moving your body, prescribing love and community as medicine for the soul, optimizing your sex life, or getting in touch with your life's purpose in order to optimize your health, this book will support your whole health journey as it also connects you with the body wisdom that can guide you to creating a life your body loves."
—Lissa Rankin, M.D., New York Times bestselling author of Mind Over Medicine

"Rachel Abrams has created the most comprehensive guide I've ever seen for women's health. By brilliantly showing how to use the body as the most reliable diagnostic tool for healing, Dr. Abrams is paving the way for practitioners and patients alike to integrate body intelligence into wellness. This is a book worth having by your nightstand for sure!"
—Steve Sisgold, author of Whole Body Intelligence

"Bodywise is packed with practical information and a step-by-step process by which any woman can better understand her body and find healing, as well as a life of love and purpose. Dr. Rachel takes complex concepts and relates them to you as if she were your best friend, helping you to find the kind of life you are seeking and the path to healing that is particular to you."
—Alan Gaby, MD, author of Nutritional Medicine

"Dr. Abrams offers practical steps to get you feeling better and more in touch with your body.Whether you have pain, are wondering about hormone replacement therapy, or simply want to improve your health, Bodywise offers you a path to success."
—Mimi Guarneri, MD, FACC, President of the Academy Integrative Health and Medicine and author of The Heart Speaks

"BodyWise represents the remembering of our hearts—the wisdom within each of us that helps us to reconnect with the natural world, our friends and family, our purpose in this lifetime, and the awareness of our own intelligence. Dr. Rachel has connected with the simple wisdom by truly listening to what people have been sharing with her for years as a healer—the wisdom of knowing what is out of balance and the receptivity, based upon her compassionate presence, to support the return to balance, to vibrant living, and to optimal health. We are blessed to hear the evolutionary expression of Dr. Rachel's voice as a true healer and as a consummate teacher."
—Patrick Hannaway, MD President, Institute for Functional Medicine

"Direct, deeply knowledgeable and inspiring, I would follow Dr. Abrams anywhere. Thankfully with Rachel, it will be to my sustained health and well-being. BodyWise is so comprehensive and integrates all aspects of the totality of being in a human body, and how to be responsible for and to it....This book is a smart and gentle well-being bible."
—Alanis Morissette

"There is a common language and wisdom available to every human being since the beginning of time, a great treasure, which we can find if we take time to listen for it. This is what Dr. Rachel Abrams, MD. teaches to us in this remarkable book. It is the language of our bodies and the wisdom which it brings to our consciousness is truly the truth we can learn and trust. It is the physician within each of us and it is what does the real healing. A surgeon can repair a wound but the life force within us does the healing and this is who you will meet and learn from as you study this book and age into health."
—Gladys Taylor McGarey, MD, MD[H], founder of the American Holistic Medical Association and the "mother of holistic medicine"

"BodyWise is a profoundly compassionate book that will help you to understand the messages your body is continually sending you. If you want to become more fully alive and vibrantly healthy, if you want to create a life with more love and less pain, BodyWise will show you the way. It is a superb guide to lifelong healing."
—John Robbins, president of the Food Revolution Network and author

"If you are looking to create health and vitality in your life, this a must read book that integrates science with the tranformative power of curiosity to access inner wisdom so you can heal and thrive from within."
—Daniel Friedland, M.D., founding chair of the Academy of Integrative Health & Medicine, CEO of SuperSmartHealth, and author of Leading Well from Within

"Chronic fatigue, chronic pain, chronic sleep problems, anxiety/depression, weight gain, and a decrease in sexual function are a common list of problems I see in my practice every day, often all in the same individual. Dr. Rachel Carlton Abrams has taken her 20 years of clinical experience, her research, insights, and intuition and intellect to bear in producing this resourceful book for women who have one or more of these problems. Readers can gain advice on common sense practical approaches, plus be exposed to some of the most well-known natural medicine therapies to approach their health issues. Self-help resources such as Bodywise can help to turn a life towards the positive."
—Tori Hudson, N.D., author of Women's Encyclopedia of Natural Medicine and medical director of A Woman's Time

"Dr. Rachel Carlton Abrams has created a wonderful combination of concepts and stories, all geared toward teaching you how to listen to your body, tap into your inner wisdom and find the happy healthy life you are looking for. As a leader in the field of Integrative Medicine, Dr. Abrams brings insight, experience and humor to her writing. I highly recommend this book for anyone yearning to find your inner wise self, that voice within that is waiting to welcome you with open arms."
—Molly M. Roberts, MD, MS, ABIHM, past president of the American Holistic Medical Association, Board member of the Academy of Integrative Health

"Dr. Rachel Abrams is amazingly caring and conscientious. I have benefitted from her considerable conventional medical knowledge as well as from her skill with natural remedies. She has kept a careful eye over my welfare all the way from California and has maintained a friendly and professional relationship with my South African doctors who have welcomed her contributions happily. It is because they have not been intrusive. My South African medical team and I hold her in very high regard and hope her book is as successful as it deserves to be for the benefit of even more people."
—Desmond Tutu, Archbishop Emeritus of Cape Town
Rodale Books, 9781623367220, 288pp.
Publication Date: December 27, 2016
About the Author
RACHEL ABRAMS, M.D., graduated from Stanford University, received her Medical Degree from UC San Francisco and a Masters Degree in Holistic Health and Medical Sciences from UC Berkeley. She is Board Certified in Family Medicine and Integrative and Holistic Medicine, and she has been a board member of the American Holistic Medical Association since 2013. She currently chairs committees for the Academy of Integrative Health and Medicine. Abrams lives in Santa Cruz, California, with her family.
or
Not Currently Available for Direct Purchase