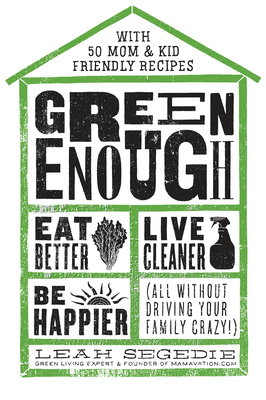 Green Enough
Eat Better, Live Cleaner, Be Happier--All Without Driving Your Family Crazy!
Hardcover

* Individual store prices may vary.
Description
A real, no-holds-barred take on making smart, healthy choices for you and your family.

In Green Enough, Mamavation blogger Leah Segedie uncovers the truth behind the food and household products that are misleadingly labeled "all-natural" and healthy but are actually filled with chemicals and toxins. From furniture to packaged food, Leah guides you through detoxifying your home, diet, and lifestyle, showing you how to make the best choices possible.

She exposes the brands and products that contain toxic and hormone-disrupting ingredients and gives guidelines on choosing safer products and organic produce that are free from toxic and persistent pesticides. She instructs you on making the move to meat, dairy, and eggs that are free of antibiotics, GMOs, growth hormones, and dangerous pathogens. She explains at what phases of childhood children are the most vulnerable and need more protection. And she includes delicious and kid-approved recipes to help you detoxify your cooking routine. It's not about being perfect or 100% clean—none of us are—it's about being green enough.
Praise For Green Enough: Eat Better, Live Cleaner, Be Happier--All Without Driving Your Family Crazy!…
"Green Enough is a fun, direct, user-friendly guide to a healthier lifestyle. You will want to give this book to those you love, because Leah is that best friend telling you exactly what you need to hear."
—Robyn O'Brien, founder of AllergyKids Foundation and author of The Unhealthy Truth

"This is the perfect starting point for people who want to detox their lives from harmful chemicals. Often, the fear of not doing it right, not doing enough, or not knowing enough about toxic chemicals paralyzes people who are interested in taking better care of themselves. Fear no more. Leah Segedie has you covered: You can be green enough!"
—Amy Ziff, founder and executive director of MADE SAFE

"Leah Segedie is a force to be reckoned with. I've know Leah for years and even though she began her journey fighting for cleaner food and household products well before I began to understand the importance of it all, I always marveled at her energy, dedication, drive, and fierce never-say-die attitude. Leah is so sincerely passionate about uncovering mistruths and problems that most of us have no idea about. I credit her with being one of the forces of massive change in the non-GMO movement that has made a significant impact on the CPG industry at large. I have mad respect and gratitude for this woman who fights for our protection every day. We all owe her a debt of gratitude that cannot be measured. Keep fighting, Leah. You've so got this."
—Kelly Olexa, founder and CEO of FitFluential.com

"I'm smitten with Green Enough, and Leah Segedie's brilliant, witty approach in dissecting the science behind why going green can help you to eat better, live better, and raise healthier kids."
—Jennifer McGruther, creator of Nourished Kitchen and author of The Nourished Kitchen

"I've been waiting a long time for somebody to write this book! Leah Segedie's Green Enough is an irreverent bible for powerful living—packed of straight talk about science and practical tips for taking charge of our own health and the health of our personal environments. Best of all, the book feels like a cathartic confab with a good girlfriend, someone who knows what it's like to be a busy mom grappling with an increasingly complex and crazy world, who has our backs and knows just what to say to keep us fired up to keep taking the next step forward into our own power. Bravo Leah, and thank you."
—Stacy Malkan, co-founder of The Campaign for Safe Cosmetics and author of Not Just A Pretty Face

"Leah's book is f@*&king awesome—as she might say. It's a clear-eyed analysis of the toxic threats around us with just as clear tips and strategies for making better choices and taking action for ourselves and our communities."
—Anna Lappé, national bestselling author of Diet for a Hot Planet

"Riveting, fact-based, and utterly hilarious. Green Enough is the perfect book for anyone curious about how to make their home safer, without drastically uprooting life as you know it."
—Lindsay Dahl, activist and former deputy director of Safer Chemicals, Healthy Families

"When you realize everything in your life that affects your family's health it can feel overwhelming! Get Green Enough to relax and start making better (but not perfect) choices daily that will help keep you all healthy."
—Ashley Koff RD, CEO of The Better Nutrition Program

"Eco-wellness pioneer Leah Segedie speaks candidly and boldly reveals so much valuable, thoughtful, and mind-boggling information that should make you stop and say WTF. After reading this book, you'll want to take a closer look at your home, your pantry, and probably, yourself in the mirror. Leah shares her knowledge based on personal experience and from the heart. Plus, the best part is that her mantra is that it's not about not being perfect but being aware, present, and proactive when it comes to your home environment. And if you appreciate a few f-bombs every now and then, this may be up your alley."
—Barbara Jones, founder and CEO of Blissful Media Group
Rodale Books, 9781623367602, 320pp.
Publication Date: March 20, 2018
About the Author
Leah Segedie is the creator of the Mamavation website and CEO of eco-wellness conference ShiftCon. She has spent the last decade uncovering the deceptive marketing and fallacious propaganda embedded in our everyday lives from corporations and the food industry. Through her blog, thousands of moms have detoxified their lives and the lives of their children.
or
Not Currently Available for Direct Purchase