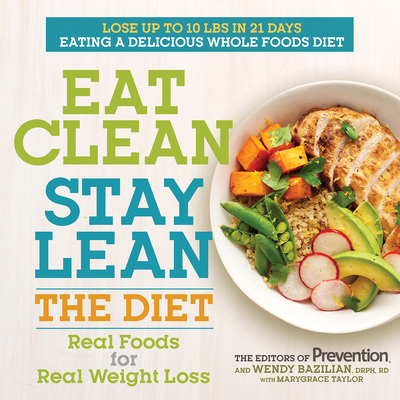 Eat Clean Stay Lean: The Diet: Real Foods for Real Weight Loss (Paperback)
The Diet: Real Foods for Real Weight Loss
Rodale Books, 9781623367893, 336pp.
Publication Date: December 20, 2016
Description
Hot on the heels of Eat Clean, Stay Lean, the editors of Prevention are back with Eat Clean, Stay Lean: The Diet the ultimate clean-eating plan for effortless weight loss and overall better health. This book is one of the first of its kind to leverage clean eating instead of counting calories, cutting carbs, or adopting other restrictive habits to help you lose the weight you want while still enjoying life and learning more sustainable and nourishing ways to eat better.
Whether you choose the easy-to-follow 3-week plan or a more intensive 6-week program, this book helps you customize clean eating to fit your needs and lifestyle. Both plans include certain unlimited superfoods that you can eat as much as you want, helping to make this diet a more fun, sustainable, and effective way of eating than restrictive, traditional weight-loss plans.
The book includes more than 35 clean and delicious recipes developed by the experts at Prevention to keep you satisfied and on track. The healthy exercise tips and advice on removing everyday, metabolism-messing toxins from your home and personal-care products will even help you adopt a cleaner lifestyle.
Now eating clean and losing weight is easier than ever before without counting calories or cutting carbs.
About the Author
Wendy Bazilian, DrPH, RD, is a doctor of public health and nutrition, registered dietitian, and American College of Sports Medicine-certified exercise physiologist. An award-winning journalist and real-food champion, Dr. Bazilian is author of the bestselling The SuperFoodsRx Diet and coauthor of Eat Clean, Stay Lean, the first book in the Eat Clean series from Prevention magazine. She is the owner of Bazilian's Health Clinic in San Diego and an active consultant to the spa and wellness industry. Dr. Bazilian shares her enthusiasm for healthy living to help thousands of individuals set, achieve, and surpass their healthy living goals. Visit her at bazilians.com.Prevention is the leading healthy lifestyle brand in the US with a total readership of 8.7 million in print and more than 6 million online.
Advertisement