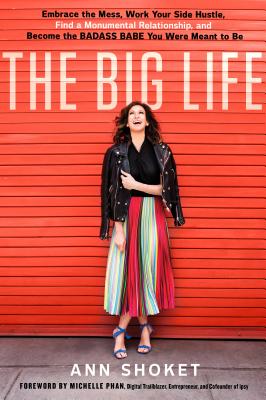 The Big Life
Embrace the Mess, Work Your Side Hustle, Find a Monumental Relationship, and Become the Badass Babe You Were Meant to Be
Hardcover

* Individual store prices may vary.
Other Editions of This Title:
MP3 CD (6/6/2017)
Description
"Ann has always seen the power and potential in young women. The Big Life helps make all our dreams closer than ever." —Lauren Conrad, designer and New York Times bestselling author of Lauren Conrad Celebrate

"The Big Life is a guide for women in their 20s and 30s who are hungry for a job they love, a supportive network of friends, respect from their bosses, and partners who want all those things for them as badly as they do." —The New York Times

Millennial women are changing what it means to be powerful and successful in the world—for everyone. Forever. You want The Big Life—that delicious cocktail of passion, career, work, ambition, respect, money, and a monumental relationship. And you want it on your own terms. Forget climbing some corporate ladder, you want a career with twists and turns and adventure. For you, success only matters if it's meaningful. Ann Shoket knows the evolving values of young women more than anyone. She's the voice behind the popular Badass Babes community, a sisterhood of young, hungry, ambitious women who are helping each other through the most complex issues around becoming who you're meant to be. As the trailblazing editor-in-chief of Seventeen for the better part of a decade, Shoket led provocative conversations that helped young women navigate the tricky terrain of adolescence and become smart, confident, self-assured young women. Now that they are adding muscle to the framework of their lives, she's continuing the conversation with The Big Life.

The Big Life is packed with actionable guidance combined with personal advice from high-profile millennial women who have already achieved tremendous success, plus intimate conversations with a cast of compelling characters and Shoket's own stories on her quest for The Big Life. You'll learn to tackle all of the issues on heavy rotation in your mind such as:
• How to craft a career that's also a passion.
• How to get respect from a boss who thinks you're a lazy, entitled, and self-obsessed millennial
• Why you need a "squad" of people who support you as you build your Big Life
• How a side hustle will make you smarter, hotter, and more in control of your destiny.
• Why work/life balance is a sham and your need to embrace the mess.
• How to find a partner whose eyes light up when you talk about your ambition.

Written in Shoket's friendly and authoritative style, The Big Life will help you recognize your power, tap into your ambition, and create your own version of The Big Life.
Praise For The Big Life: Embrace the Mess, Work Your Side Hustle, Find a Monumental Relationship, and Become the Badass Babe You Were Meant to Be…
ENDORSEMENTS

"A new look at millennials and the way they value work and relationships—Ann Shoket's new book, The Big Life, turns the tables on some common misconceptions."—Robin Roberts, Good Morning America

"The Big Life! Go for it girls...believe in your strength and live your dreams."—Diane von Furstenberg

"Ann is a phenomenal champion for women. She makes us all feel seen, heard and,most importantly, validated."
—Issa Rae, creator and star of HBO series Insecure and New York Times Best Selling author of The Misadventures of Awkward Black Girl

"Giving back is a crucial part of the Big Life for me and my generation. Ann shows us that we succeed when we help others succeed."
—Lauren Bush Lauren, CEO and founder of FEED

"Ann Shoket is a fresh and credible voice for a new generation of women leaders who are redefining success. With authority and wit, Ann guides young women who are already making their mark in unlocking The Big Life we promised them, and that they deserve."
—Tiffany Dufu, Chief Leadership Officer of Levo and author of Drop the Ball

"Our generation of women is changing the rules for work. This uncharted territory is both exciting and challenging—and we're lucky to have Ann Shoket as our guide in career, love and life. I wish I'd had this book when I was getting started!"
—Kathryn Minshew, founder and CEO of The Muse

REVIEWS

"As editor-in-chief of Seventeen, Ann Shoket helped to shape the millennial conversation. In this new book, she's counseling young women in search of the "Big Life" — that elusive combo of professional success, love,work, ambition, money, etc. on their own terms. Includes fun chapters on working your side hustle and how to get respect from the boss who thinks you're just a lazy millennial." – The New York Post

"In her new book, the former editor-in-chief of Seventeen sees your 20something challenges—from figuring out your life's purpose to mastering tricky work meetings—then raises you to a whole new level of motivation" – Cosmopolitan

In The Big Life, a provocative look at what it means to have it all now, [Shoket] takes on the common complaint that millennials are too impatient on the job, advising readers to harness that restless energy.... Her core message of being passionate about your vocation and friendships spans the gap between digital natives and their moms, making The Big Life a smart read for both."—O, The Oprah Magazine

"For readers who are eager to make a mark on the world...[The Big Life] provides a steady reading journey on how to get it all... It's jam-packed with fun and effective do-it-yourself must-tries...With a friendly tone and avid advice, this quick read will have readers amped up for that new life path faster than it takes to turn the page." – Booklist


Rodale Books, 9781623368241, 240pp.
Publication Date: March 14, 2017
About the Author
Ann Shoket has been a key architect in shaping the national conversation about and for millennial women. As Editor-in-Chief of Seventeen from 2007 to 2014, Shoket repositioned the iconic fashion and beauty brand to dominate as the most relevant voice for its 13 million readers. She led the magazine to become the number-one teen magazine on every platform with innovative content around the most important issues facing young women today. She helped revolutionize teen magazines, as part of the launch team of CosmoGIRL in 1999, by talking openly about important emotional issues that weren't yet addressed by traditional publications. Shoket has appeared regularly on Good Morning America, Today, The Oprah Winfrey Show, The View, CNN, Access Hollywood, and E! News, and she was a guest judge for four seasons on America's Next Top Model. Forbes has named her one of the "Most Powerful Fashion Magazine Editors" in the country. As part of her Big Life, she lives in New York, NY, with her husband and two children.
or
Not Currently Available for Direct Purchase