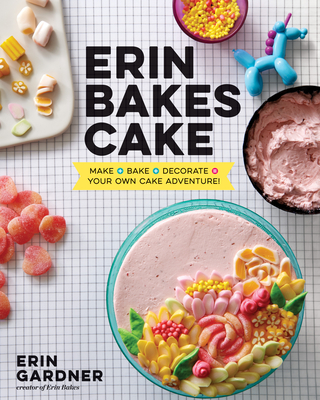 Erin Bakes Cake
Make + Bake + Decorate = Your Own Cake Adventure!: A Baking Book
Hardcover

* Individual store prices may vary.
Description
"You have not eaten cake until you have eaten one of Erin's...ERIN BAKES CAKE is a must on your shelf." —Daphne Oz

Learn how to bake easy but elaborately decorated cakes—no fondant needed!

Erin Gardner's cake recipes share a delicious, time-saving secret: they're all the same. Why play the guessing game of sifting through dozens of recipes when all you need are just a few that contain hundreds of variations—572, to be exact! The cakequations in Erin Bakes Cake teach you how to combine her cake, buttercream, cookie, and candy recipes in endless mouth-watering ways. Erin's cake recipes aren't sorcery—they're science. They all share similar ratios of ingredients that add tenderness, strength, or flavor. You don't have to be an expert. Everyone can learn to make a great cake!

Erin Bakes Cake provides the building blocks for constructing a great cake, and then offers endless ways those blocks can be reassembled. Erin shares the baking tips she learned as a professional pastry chef and wedding cake baker, what tools to use, how to perfect the cake's finish, and other tricks of the baking trade. She then shows you how to make gorgeous and intricately decorated cakes by elevating simple, but delicious, ingredients like candy, cookies, and chocolate. Erin's created cake designs that are festive, chic, and easy to recreate at home without the use of hard-to-deal-with fondant.

And best of all, you can make every recipe your own! The Any Veggie Cake cake can be transformed into a classic carrot cake, zucchini cake, or sweet potato cake. A creamy cake filling isn't limited to buttercream with the inclusion of recipes for caramel, ganache, marshmallow, and more. A chocolate birthday cake recipe can be reimagined as red velvet or chocolate toffee. Elements of crunch, like peanut brittle, honeycomb candy, or even cookie crumbles, can be sprinkled onto your cake layers for tasty added texture.
Praise For Erin Bakes Cake: Make + Bake + Decorate = Your Own Cake Adventure!: A Baking Book…
"You have not eaten cake until you have eaten one of Erin's. For the extra greedy among us who just cannot get enough of her densely moist confections, fluffy butter creams, and elegantly whimsical decorations, Erin Bakes Cake is a must on your shelf. Erin has sprinkled a bit of her magic across these pages and given all of us the fail-prood techniques she uses to wow every time. Sink your teeth into her sweet life, you will not be disappointed!
—Daphne Oz, Emmy Award-winning TV host and New York Times bestselling author

"If you are only gonna buy one baking book in your lifetime you better buy Erin Bakes Cake. It's not only an encyclopedia of baking, but a true feast for your eyes. Let the cake revolt start!"
—Sweet Paul

"Fresh. Fun. Creative. Erin's book is full of revolutionary designs in not only decoration but flavor! She pays attention to every detail and offers up a unique perspective that is revitalizing the baking world. Her passion for her cakes is contagious!"
—Amanda Rettke, i am baker blogger and author of Surprise Inside Cakes

"One of my most favourite cake creatives, Erin's delicious ideas are totally out-of-the-cake box! This book is packed with delightful inspiration, super handy tips and mouth-watering recipes. It definitely has pride of place in my kitchen!"
—Katherine Sabbath

"We have a superstar, sweet, rock candy, unicorn crush on Erin Bakes Cake and we're headed into the kitchen right this second!"
— Jonathan Faucett + Rachel Faucett, Handmade Charlotte

"I loved Choose Your Own Adventure books as a kid, so combining that concept with my ultimate favourite, CAKE—I'm in love already! Erin has been sharing her whimsical and approachable cake creations for years and I've long admired her ability to combine deliciousness with colourful, rainbow-tinged creative flair. This bright and hilariously-written book is stacked with recipes for delicious cakes, fillings and frostings, as well as attainable and lively designs using easy-to-find ingredients. Erin Bakes Cakes will lead you to a buttercream-filled unicorn land of cakey magic—you'll always get the happy ending!"
—Lyndsay Sung, creator of Coco Cake Land

"Erin Bakes Cakes is equal parts fun, creative, and pure genius! Through intriguing flavour/texture pairings and endless decorating ideas, the structure of the book nourishes our own inner artists and provides the perfect road map toward creating the cakes of our dreams. Erin's cakes are undoubtedly beautiful, and her easy-to-follow instructions and countless recipe variations provide us with a lifetime of tricks and techniques to try."
—Tessa Huff, author of Layered: Baking, Building and Styling Spectacular Cakes

"This book is an absolute unicornucopia of magic, delicious delight, and an enjoyable education on all things cake baking and decorating. Unicorn-approved!"
—Jessie Oleson Moore, CakeSpy.com

"Erin Bakes Cake is a modern mashup of fundamental baking techniques and creative genius. Erin breaks down the nitty gritty details of baking success with relatable charm, whimsical diagrams, rainbow charts, and heavy sprinkling of fun. In the world of baking books, this one is truly a unicorn."
—Carrie Sellman, founder of TheCakeBlog.com

"Erin is in baking and with cakes what I try to be in DIY: a fun, 'you can do this' approach that makes it easy to achieve the things you want to. This must-get book will have you making cake for days!"
—Nicole Farb, Founder of Darby Smart

"Ordinary cake books are fine for all those other boring bakers out there, but you want to be like me: a culinary rebel who plays by their own rules! Erin Gardner will help show you the way: this technicolor tome will help you unleash the buttery beast, letting you follow your heart to the cake of your dreams."
—Allison Robicelli, chef, James Beard nominee and author of Robicelli's: A Love Story, With Cupcakes
Rodale Books, 9781623368364, 256pp.
Publication Date: September 5, 2017
About the Author
Erin Gardner is a self-taught pastry chef, Craftsy instructor, creator of the ErinBakes website, and author of Great Cake Decorating. She's a regular contributor for The Cake Blog and Craftsy's Cake Decorating Blog. Erin worked as a pastry chef in numerous New England kitchens, including Boston's legendary Locke Ober, before opening Wild Orchid Baking Co. in 2009. She quickly became the go-to cake designer for premiere events, competing on and winning Food Network's Sweet Genius. Her work has been featured in Brides, Martha Stewart Weddings, Town & Country, OK Magazine, Huffington Post, HGTV's DIY Network, and more. She lives with her husband and children in the New Hampshire lakes region.
or
Not Currently Available for Direct Purchase