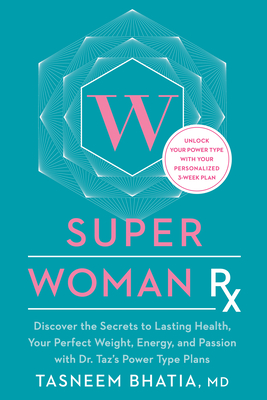 Super Woman Rx
Unlock the Secrets to Lasting Health, Your Perfect Weight, Energy, and Passion with Dr. Taz's Power Type Plans
Hardcover

* Individual store prices may vary.
Description
Find your Power Type to discover your personalized plan for weight loss, energy, and lasting health. No more one-size-fits-all diets!

Modern womanhood often means juggling multiple roles—businesswoman, mother, spouse, homemaker, and more—all while being expected to look perfectly composed. In other words, it means being superhuman. The truth is, it can seem impossible to maintain physical health while navigating our busy lives. We're overwhelmed and exhausted, which can often translate into unhealthy eating habits, lack of exercise, and no time for self-care. But diet and fitness plans are usually one-size-fits-all, and those universal programs just don't work for every body and every personality. Integrative health and wellness expert Tasneem Bhatia, MD, known to her patients as Dr. Taz, has a plan that is anything but cookie-cutter. Her mission is to help women achieve optimum health, and now she can help you with her personalized plans in Super Woman Rx.

In Super Woman Rx, Dr. Taz sets out to treat "super woman syndrome" by offering five prescriptive plans based on a woman's unique blueprint, or Power Type, whether you're a Boss Lady, a Savvy Chick, an Earth Mama, a Gypsy Girl, or a Nightingale. A fun quiz will help you narrow down your type and figure out which strategies will work best for you. Drawing inspiration from Ayurvedic, Chinese, and Western systems of medicine, each nutrition and exercise plan helps you shed pounds, decrease anxiety and depression, rejuvenate skin, reduce PMS symptoms, and much more in just 3 weeks. Then, long-term strategies with specialized plans follow those 3 weeks. With Dr. Taz's comprehensive, personalized guidance, you'll radiate from the inside out.
Praise For Super Woman Rx: Unlock the Secrets to Lasting Health, Your Perfect Weight, Energy, and Passion with Dr. Taz's Power Type Plans…
ENDORSEMENTS

"Living, and thriving, through the very challenges she describes, Dr. Taz is a uniquely knowledgeable and insightful guide to health through the dizzying demands placed on modern women. On behalf of my wife and daughters—sign me up!"
—David L. Katz, MD, director, Yale University Prevention Research Center, founder and president of the True Health Initiative, and author of Disease-Proof: The Remarkable Truth About What Makes Us Well& ;

"Super Woman Rx eloquently manifests the notion of knowledge leading to empowerment. This is rich information in a totally actionable presentation that opens the door for women's health."
—David Perlmutter, MD, New York Timesbestselling author of Grain Brain and Brain Maker

"A great read that helps make sense of the massive loads of information we're given every day about health and happiness. Combining the best of Eastern, Western, and functional medicine, this book shows the powerful role mindfulness, nutrition, and self-care plays in all of our lives."
—Anthony Youn, MD, author of The Age Fix

"Dr. Taz gets it—women's mental, emotional, and physical health are screaming for this dogma-free, functional approach to wellness. Dr. Taz weeds through our modern information overload to create lasting solutions to the issues many of us have just accepted as 'normal': hormonal imbalance,anxiety, insomnia, low libido, digestive upset, and so much more. SuperWoman Rx is the prescription we all have been waiting for."
—Laura Lea Goldberg, certified holistic chef and author of The Laura Lea Balanced Cookbook


REVIEWS

"...A perfectly traditional self-help guide, which works on the premise that while everyone is a lovely individual snowflake, we all fall into certain emotional and physical categories, and if we figure out our category we can determine the best diet and fitness and psychic-energy plan to empower ourselves."
— The New York Times
Rodale Books, 9781623368586, 352pp.
Publication Date: September 12, 2017
About the Author
TASNEEM BHATIA, M.D., is a board-certified physician specializing in integrative and emergency medicine, pediatrics and prevention, with expertise in women's health, weight loss, and nutrition. She is the author of What Doctors Eat and The 21-Day Belly Fix and the host of RadioMD's The Dr. Taz Show: The Super Woman's Whole Health Fix podcast and of the popular YouTube series, Kitchen Cures. She has served as the medical expert for CNN Headline News, a Dr. Oz Sharecare expert, and has been featured in such media outlets as The Dr. Oz Show, TODAY, Access Hollywood, Good Morning America, EXTRA!, Live with Kelly, and The Doctors. She is a contributing editor to Prevention magazine and an Assistant Professor at Emory University. She lives in Atlanta, GA, with her husband and two young children.
or
Not Currently Available for Direct Purchase