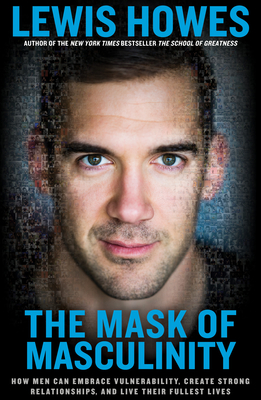 The Mask of Masculinity
How Men Can Embrace Vulnerability, Create Strong Relationships, and Live Their Fullest Lives
Hardcover

* Individual store prices may vary.
Other Editions of This Title:
Paperback (9/24/2019)
Description
Standing between you and the man you CAN be is one thing: The Mask of Masculinity. 

Lewis Howes grew up as an athlete. He was a two-sport All-American, played almost every sport in high school, and went on to play football professionally. Howes then transferred his competitive nature from sports to business, building his podcast, "The School of Greatness," into a global phenomenon and becoming successful beyond his wildest dreams. But his whole identity was built on misguided beliefs about what "masculinity" was: dangerous, false ideas learned from teammates and coaches in locker rooms and stereotypes in the media. Like so many men, Howes grew up to be angry, frustrated, and always chasing something that was never enough.

At 30 years old, outwardly thriving but unfulfilled inside, Howes began a personal journey to find inner peace and to uncover the many masks that men—young and old—wear: by asking for advice from some of the world's best psychologists, doctors, and household names like Tony Robbins, Alanis Morissette, and Ray Lewis. That journey created this book—a must read for every man, and for every woman who loves a man.

In The Mask of Masculinity (a USA Today bestseller), Howes exposes the ultimate emptiness of the Material Mask, the man who chases wealth above all things; the cowering vulnerability that hides behind the Joker and Stoic Masks of men who never show real emotion; and the destructiveness of the Invincible and Aggressive Masks worn by men who take insane risks or can never back down from a fight. He teaches men how to break through the walls that hold them back and shows women how they can better understand the men in their lives. It's not easy, but if you want to love, be loved, and live a great life, then it's an odyssey of self-discovery that all modern men must make.
Praise For The Mask of Masculinity: How Men Can Embrace Vulnerability, Create Strong Relationships, and Live Their Fullest Lives…
"This is one of the most important topics today that seemingly no one is talking about: how men can take care of their emotional health in a 21st century that demands it. Crucial reading for any young or struggling man."
—Mark Manson, #1 New York Times bestselling author of The Subtle Art of Not Giving a F*ck


"The rigid ideas our culture teaches us about masculinity and femininity make it nearly impossible for real men and women to truly see and love each other. For men who want to free themselves from cultural cages—Howes'book is a life changer. For women who want to offer the men in their lives permission to be fully human—The Mask of masculinity is a vital tool. This book has the power to change lives,relationships, and our culture."
—Glennon Doyle, author of #1 New York Times Bestseller Love Warrior and founder of Together Rising


"Lewis' raw truth of what it's like to be raised as a male athlete in today's world is exactly what we need to hear. I want every football player(and athlete) to read this book so they can understand what's possible when they take the helmet off."
—Steve Weatherford, Super Bowl Champion, 10-year NFL veteran, Fittest Man in the NFL, father of 5


"In his new book, The Mask Of Masculinity, Lewis Howes gives us permission to honor our vulnerability so we can create deeper connections and live a better life. There's nothing sexier than our authentic truth and this book helps us harness it! Lewis transcends gender in this book - it's just as much for women as it is for men."
—Gabby Bernstein, #1 New York Times bestselling author of The Universe Has Your Back


"For women, reading this book will help them to understand the men in their lives on a much deeper level—and show them ways that they can support the men they love."
—Gretchen Rubin, #1 New York Times bestselling author of The Four Tendencies and The Happiness Project


"Lewis Howes is going to help a lot of men with this book."
—Dr. Drew Pinsky, board-certified internist, addiction medicine specialist, and media personality


"Lewis blends vulnerability, insight, and profound courage to a conversation so deeply needed in this pivotal time of dismantling of a stifling and violent patriarchy. May his integrated voice echo loudly and widely as an invitation to provide more freedom and love within masculinity."
—Alanis Morissette, Grammy award-winning singer-songwriter, musician, record producer,and activist


"The single most important book I've read on what it means to be a man. I laughed. I cried. It's a page turner that will rock you. If you're raising a son, read this book. Have a father or a brother? Read this book. Just read this book. You'll love it and be a better human because of it."
—Mel Robbins, award-winning CNN commentator, bestselling author of The 5 Second Rule, entrepreneur, and mother of 3
Rodale Books, 9781623368623, 256pp.
Publication Date: October 31, 2017
About the Author
Lewis Howes is the New York Times bestselling author of The School of Greatness, and a lifestyle entrepreneur. A former professional football player and two-sport All-American, he is a current USA Men's National Handball Team athlete. His podcast The School of Greatness, which has over 30 million downloads, is one of the top 100 ranked podcasts in the world on iTunes. He was recognized by the White House and President Obama as one of the top 100 entrepreneurs in the country under 30. He and his work have been featured The New York Times, People, Forbes, ESPN, Sports Illustrated, Men's Health, Fox and Friends, The Today Show, and other major media outlets. Originally from Ohio, Howes now lives in Los Angeles, CA.
or
Not Currently Available for Direct Purchase