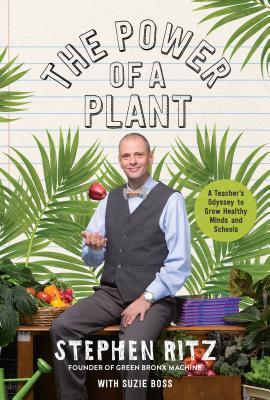 The Power of a Plant: A Teacher's Odyssey to Grow Healthy Minds and Schools (Hardcover)
A Teacher's Odyssey to Grow Healthy Minds and Schools
Rodale Books, 9781623368647, 304pp.
Publication Date: May 2, 2017
Description
In The Power of a Plant, globally acclaimed teacher and self-proclaimed CEO (Chief Eternal Optimist) of Bronx County, Stephen Ritz, shows you how, in one of the nation's poorest communities, his students thrive in school and in life by growing, cooking, eating, and sharing the bounty of their green classroom. Born and raised in the Bronx, Stephen knew precisely nothing about farming and tipped the scales at about 300 lb. But when a flower broke up a brawl among burly teenagers at a tough South Bronx high school, Stephen saw a teachable moment to connect kids and himself with nature. By using plants as an entry point for learning across all subjects, he transformed his classroom into a vibrant and hopeful space. Student attendance soared from 40 to 93 percent. Disciplinary issues plummeted. In a school with a 17 percent graduation rate and staggering crime rate, every one of his students finished school and stayed out of jail. He then took control of his own health and lost more than 100 pounds to model good behavior for his students. After growing more than 40,000 pounds of vegetables in school, he figured out how to bring the magic of gardening into the heart of schooling for kids of all ages.
The Power of a Plant shares Stephen's practical solutions for growing his favorite crop: organically grown citizens. His approach has attracted attention from the White House to the Vatican and become a replicable model for success. For anyone worried about soaring childhood obesity rates, access to healthy, affordable food, and job opportunities to lift families out of poverty, he has the hard-earned answers. Though the lens of Stephen's dynamic life story, his irrepressible humor and veteran teacher's wisdom will undoubtedly inspire audiences to make epic happen in your own communities. If it's passion, purpose and hope you seek, look no further. If it works in the Bronx, it can work anywhere.
About the Author
Stephen Ritz, founder of Green Bronx Machine, has devoted his teaching career to improving health and academic results for children in the South Bronx. Now he is partnering with organizations from Canada to Dubai and Colombia to Cairo to bring the power of a plant to children and communities everywhere. A Top 10 Finalist for the Global Teacher Prize and one of NPR's 50 Greatest Teachers, he has presented at the White House on two separate occasions and had his classroom modeled by the U.S. Botanic Garden. His work has been featured by major media and documentaries, including Michael Pollan's In Defense of Food, and his TEDx talk has been viewed over one million times. Dubbed the Pied Piper of Peas, Ritz and his family reside in the Bronx and continue to farm with children all year round. His demonstration classroom, the National Health, Wellness, and Learning Center, is located at Community School 55 in the South Bronx.
Advertisement