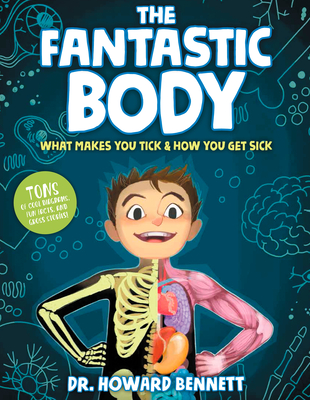 The Fantastic Body (Hardcover)
What Makes You Tick & How You Get Sick
Rodale Kids, 9781623368890, 240pp.
Publication Date: November 7, 2017
* Individual store prices may vary.
Description
The Fantastic Body is the ultimate kids' reference guide to the human body Jam-packed with fun facts, cool diagrams, and gross stories, and written by a successful, practicing pediatrician, this go-to guide will captivate curious readers for hours on end. Kids will take their learning beyond reading the book with DIY projects that demonstrate different bodily functions and tips for making their regular checkups less scary. Through humor, science, and engaging illustrations, this fun and comprehensive reference book is perfect for kids who want to know more about the mysterious stuff going on inside their bodies.
About the Author
Dr. Howard Bennett is a practicing pediatrician in Washington, DC, and the writer of a popular kids' column for the Washington Post. With more than 30 years of experience treating kids, he has all the answers--and plenty of yuck-filled stories to share!