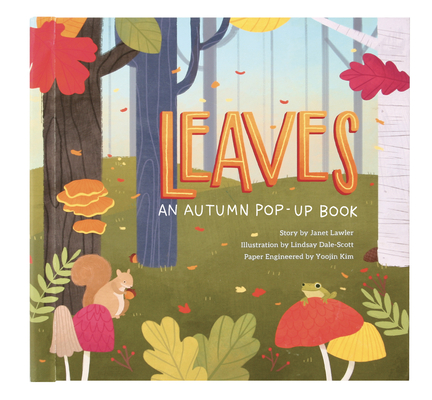 Leaves
An Autumn Pop-Up Book
Hardcover

* Individual store prices may vary.
Description
Readers of all ages will enjoy the timeless wonder of autumn leaves in this amazing new pop-up book from paper engineer Yoojin Kim--her first--teamed with award-winning author Janet Lawler and artist Lindsay Dale-Scott. This book, which can be considered a seasonal companion with Jumping Jack Press' all-time best seller and award winning, Snowflakes, includes amazing pop-ups, educational information, and delightful interactive elements that offer change and surprise on every page in this lyrical look at Autumn.
Jumping Jack Press, 9781623484583, 7pp.
Publication Date: September 1, 2017
About the Author
Janet Lawler resides in Farmington, Connecticut, USA. Her books have appeared in the Scholastic Book Clubs, the Children's Book of the Month Club, and in translation editions that include Spanish, Japanese, Hebrew, French, and Korean. Her nonfiction picture book, Ocean Counting (National Geographic) was named an Outstanding Science Trade Book for 2014 by the National Science Teachers' Association. Leaves is Janet's 19th published book. Visit her website at http: //www.janetlawler.com/ Lindsay Dale-Scott grew up in Columbus Ohio and is an avid sloth lover. She studied at The Columbus College of Art & Design and graduated with a Bachelor's Degree in graphic design. Children's illustration and typography and design are amongst Lindsay's main interests. She draws her inspiration from nature, vintage children's books and graphic design. Lindsay currently lives in Cleveland, OH with her husband, two dogs and two bunnies. Yoojin Kim is a paper engineer, book artist, and world traveler. Her wanderlust and fascination with flora and fauna is evident in her work, which is heavily influenced by both the geometric and organic structures found in nature. She holds a BFA in Printmaking from Maryland Institute College of Art and spends her time designing dimensional products for personal and commercial clients. She resides in a cozy New Haven apartment with her curious hedgehogs