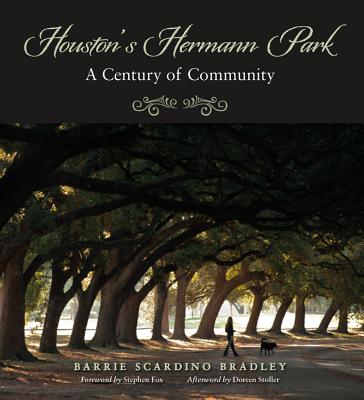 Houston's Hermann Park
A Century of Community (Sara and John Lindsey Series in the Arts and Humanities #16)
Hardcover

* Individual store prices may vary.
Description
Richly illustrated with rare period photographs, Houston's Hermann Park: A Century of Community provides a vivid history of Houston's oldest and most important urban park. Author and historian Barrie Scardino Bradley sets Hermann Park in both a local and a national context as this grand park celebrates its centennial at the culmination of a remarkable twenty-year rejuvenation.
As Bradley shows, Houston's development as a major American city may be traced in the outlines of the park's history. During the early nineteenth century, Houston leaders were most interested in commercial development and connecting the city via water and rail to markets beyond its immediate area. They apparently felt no need to set aside public recreational space, nor was there any city-owned property that could be so developed.
By 1910, however, Houston leaders were well aware that almost every major American city had an urban park patterned after New York's Central Park. By the time the City Beautiful Movement and its overarching Progressive Movement reached the consciousness of Houstonians, Central Park's designer, Frederick Law Olmsted, had died, but his ideals had not. Local advocates of the City Beautiful Movement, like their counterparts elsewhere, hoped to utilize political and economic power to create a beautiful, spacious, and orderly city. Subsequent planning by the renowned landscape architect and planner George Kessler envisioned a park that would anchor a system of open spaces in Houston. From that groundwork, in May 1914, George Hermann publicly announced his donation of 285 acres to the City of Houston for a municipal park.
Bradley develops the events leading up to the establishment of Hermann Park, then charts how and why the park developed, including a discussion of institutions within the park such as the Houston Zoo, the Japanese Garden, and the Houston Museum of Natural Science. The book's illustrations include plans, maps, and photographs both historic and recent that document the accomplishments of the Hermann Park Conservancy since its founding in 1992.

Royalties from sales will go to the Hermann Park Conservancy for stewardship of the park on behalf of the community.
Praise For Houston's Hermann Park: A Century of Community (Sara and John Lindsey Series in the Arts and Humanities #16)…
"In Hermann Park, Houstonians are blessed indeed with a tremendous resource: a place where we learn and share and enjoy the Bayou City at its best."—President George H. W. Bush, 1998
— President George H. W. Bush
"This handsomely illustrated book, packed with interesting details and fascinating stories, will be a delight to all those Houstonians who have grown up enjoying Hermann Park and its zoo or, having moved here as adults, have found it a favorite destination for their children and grandchildren. Founded during a critical decade of the city's history, Hermann Park has been an important barometer of civic pride, irresponsibility, and newly discovered responsibility."—John B. Boles, Rice University
— Dr. John B. Boles
"A comprehensive history of Hermann Park is certainly a useful addition to the Houston story. This is particularly true since the park is one of the largest public enterprises in the city and a significant amenity for a park-poor metropolis. The story is intricate and presents an interesting picture of the Houston way of doing things. In many ways the historic narrative of the park mirrors how Houston grew and changed and how its civic consciousness has evolved."—Bruce C. Webb, Professor of Architecture, University of Houston
— Professor Bruce C. Webb
"A fascinating look at the number and types of trees in the park." --Charles Ealy
— Charles Ealy
". . . comprehensive, well written, and lavishly illustrated. It is a gift to Houstonians as well as to landscape historians, urban designers, and everyone interested in the evolution and stewardship of an iconic urban park in a major American city. . . There is much to applaud here in content, organization, format, and resolution."—
Journal of Southern History
— Journal of Southern History
Texas A&M University Press, 9781623490362, 320pp.
Publication Date: November 26, 2013
About the Author
Barrie Scardino Bradley  has served as executive director of the Houston chapter of the American Institute of Architects, as editor of Cite: The Architecture and Design Review of Houston, and as architectural archivist of the Houston Metropolitan Research Center at the Houston Public Library. She now resides in Beaumont, Texas.

or
Not Currently Available for Direct Purchase