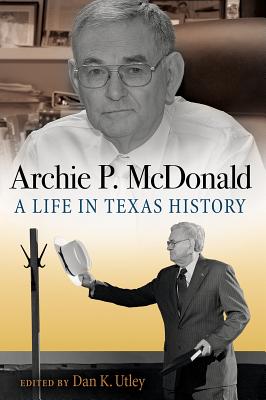 Archie P. McDonald
A Life in Texas History
Paperback

* Individual store prices may vary.
Description
Historian Archie P. McDonald (1935–2012) retired in 2008 as director of the East Texas Historical Association and editor of the East Texas Historical Journal after thirty-seven years of service. A beloved professor and author of numerous books, he charted the course of the ETHA and served as leader of several organizations. He was an inspiration to countless students, colleagues, and others who share a common appreciation for Lone Star history. Dan K. Utley sat down with McDonald on several occasions to capture and preserve his experiences for posterity.

The resulting memoir not only serves to trace McDonald's life and career but also reveals much about the maturation of a scholarly organization and its journal. McDonald was an evangelist for the study of history who believed in an open tent. This book is an important contribution to the historiography of Texas.
Praise For Archie P. McDonald: A Life in Texas History…
"Archie P. McDonald: A Life in Texas History is an outstanding first-person account of the remarkable life of 'Mr. East Texas,' who served at the helm of his beloved East Texas Historical Association (ETHA) for 37 years. Public historian and past ETHA president Dan K. Utley masterly brings to this volume not only his considerable oral history skills but his keen ability to preserve McDonald's voice throughout a lifetime of work. Seasoned with humor, wit, and insight, the book reveals a true Texas character who both preserved Texas history and made it. Beyond its regional significance, the book is important in other ways, too—as an organizational record, a compendium of reflection, integrity, and friendship, and the reminiscences of a Texan of significance. A shining tribute to his legacy, it will add greatly to the literature on Texas."—Mary L. Scheer, Author of Women and the Texas Revolution
— Mary L. Scheer

"This autobiographical book is refreshing, invigorating, and just plain fun to read. It is like spending an evening in the company of an old friend. And the late historian Archie P. McDonald, 'Mr. East Texas,' was your friend even if you never knew him. He was a true original who materially shaped the teaching and writing of Texas history for almost a half-century. You can't understand the study of Texas history without understanding Archie P. McDonald and this fine volume will give you that. Editor Dan Utley captures Archie's sterling personality at its best in the oral history interviews comprising this volume."—Light Cummins, author of Allie Victoria Tennant and the Visual Arts in Dallas
— Light Cummins

"Archie P. McDonald was the dean of East Texas historians and a friend of anyone who loved the past. Based on multiple interviews he conducted with Archie, editor Dan K. Utley has assembled the stories of his life as if Archie were spinning the yarns himself. As I read through the book, I almost felt as if Archie and I had sat down together in the easy chairs in the lobby of the Fredonia Hotel in Nacogdoches and were visiting.
Editor Dan K. Utley has taken interviews with East Texas historian Archie P. McDonald and put them together into an easily flowing story. We learn not only about Archie's life but also about what it was like to be a college professor in mid-twentieth-century America.
Archie McDonald was a professor's professor, but was more. He shared the stories of the Texas past through newspapers and even through a cookbook. Using Archie's own words, editor Dan K. Utley helps us to understand how McDonald went about making the many contributions to out understanding of Texas History."—T. Lindsay Baker, W.K. Gordon Endorwed Chair in History, Tarleton State University
— T. Lindsay Baker
Texas A&M University Press, 9781623494612, 128pp.
Publication Date: July 19, 2016
About the Author
Dan K. Utley, chief historian and lecturer with the Center for Texas Public History at Texas State University, is the coauthor or editor of numerous books, including Echoes of Glory: Historic Military Sites across Texas and History Ahead: Stories beyond the Texas Roadside Markers.
or
Not Currently Available for Direct Purchase