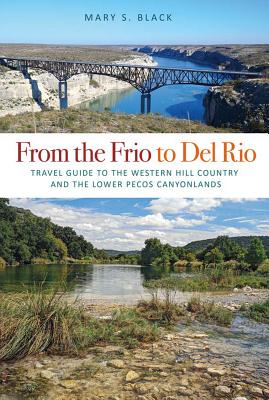 From the Frio to Del Rio (Paperback)
Travel Guide to the Western Hill Country and the Lower Pecos Canyonlands (Tarleton State University Southwestern Studies in the Humanities #28)
Texas A&M University Press, 9781623495084, 220pp.
Publication Date: March 27, 2017
* Individual store prices may vary.
Description
Each year, more than two million visitors enjoy the attractions of the Western Hill Country, with Uvalde as its portal, and the lower Pecos River canyonlands, which stretch roughly along US 90 from Brackettville, through Del Rio, and on to the west. Amistad National Recreation Area, the Judge Roy Bean Visitors' Center and Botanical Garden, Seminole Canyon State Park, and the Briscoe-Garner Museum in Uvalde, along with ghost towns, ancient rock art, sweeping vistas, and unique flora and fauna, are just a few of the features that make this distinctive section of the Lone Star State an enticing destination.

Now, veteran writer, blogger, and educator Mary S. Black serves up the best of this region's special adventures and secret treasures. From the Frio to Del Rio is chock-full of helpful maps, colorful photography, and tips on where to stay, what to do, and how to get there. In addition there are details for 10 scenic routes, 3 historic forts and 7 state parks and other recreation areas.
About the Author
MARY S. BLACK is a former instructor in public schools and professor at the University of Texas at Austin, an educational consultant, coauthor of Early Texas Schools: A Photographic History, and author of Peyote Fire: Shaman of the Canyons.