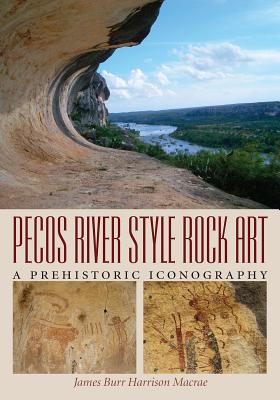 Pecos River Style Rock Art (Hardcover)
A Prehistoric Iconography
Texas A&M University Press, 9781623496401, 112pp.
Publication Date: November 5, 2018
* Individual store prices may vary.
Description
Pecos River style pictographs are one of the most complex forms of rock art worldwide. The dramatic prehistoric pictographs on the limestone overhangs of the lower Pecos and Devils Rivers in West Texas have been the subject of preservation and study since the 1930s, and dedicated research continues to this day. The medium is large-scale, polychrome pictographs in open rock shelter settings, emphasizing the animistic/shamanistic religion practiced by the local aboriginal peoples.

Creating large-scale rock murals required intelligence, skill, and knowledge. These enigmatic images, some dating to 4,500 years ago and possibly earlier, depict strange, vaguely human and animal shapes and various geometric forms. While full understanding of the meaning of these images is abstruse, archaeologists and other scholars have identified what they believe to be patterns and religious themes, mixed with what could be figures and objects from everyday life in the local hunter-gatherer culture as it existed in the region centuries before the arrival of colonizing Europeans.

Although interpretation of these pictographs remains controversial, in Pecos River Style Rock Art: A Prehistoric Iconography, James Burr Harrison Macrae contributes to the beginnings of a syntactic "grammar" for these images that can be applied in diverse contexts without direct reference to any particular interpretation. "The strength of structural-iconographic analysis," Macrae writes, "is that it relies on repetitive patterns rather than idiosyncratic information, such as trying to make broad inferences from one or only a few sites." Pecos River Style Rock Art offers the framework of an empirical methodology for understanding these ancient artworks.
About the Author
JAMES BURR HARRISON MACRAE, based in Bow, Washington, is an archaeologist and the deputy tribal historic preservation officer for the Swinomish Indian Tribal Community in La Conner, Washington.