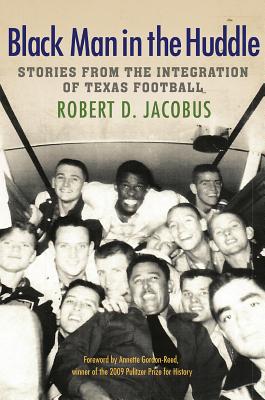 Black Man in the Huddle
Stories from the Integration of Texas Football (Swaim-Paup Sports Series, sponsored by James C. '74 & Debra Parchman Swaim and T. Edgar '74 & Nancy Paup)
Hardcover

* Individual store prices may vary.
Description
"What was it like for young black men growing up in a totally segregated environment and transitioning to an integrated one?" asks author Robert Jacobus in the preface to this collection of interviews. How did they get involved in sports? How did the facilities, both academic and athletic, compare to the white schools? What colleges recruited them out of high school?

Searching for the answers to these and other questions, Jacobus interviewed some 250 former players, former coaches, and others who were personally involved in the racial integration of Texas public school and college athletic programs. Starting with Ben Kelly, the first African American to play for a college team in the former Confederacy when he walked on at then San Angelo College, and continuing with great players such as Jerry Levias, Ken Houston, Mel Renfro, Bubba Smith, and more, the players tell their stories in their own words.

Each story is as varied as the players themselves. Some strongly uphold the necessity of integration for progress in society. Others, while understanding the need for integration, nevertheless mourn the passing of their segregated schools, remembering fondly the close-knit communities forged by the difficulties faced by both students and teachers.

Interlaced with historical context and abundantly illustrated, the first-person accounts presented in Black Man in the Huddle form an important and lasting record of the thoughts, struggles, successes, and experiences of young men on the front lines of desegregation in Texas schools and athletic programs. By capturing these stories, Jacobus widens our perspective on the interactions between sport and American society during the momentous 1950s, '60s, and '70s.
Praise For Black Man in the Huddle: Stories from the Integration of Texas Football (Swaim-Paup Sports Series, sponsored by James C. '74 & Debra Parchman Swaim and T. Edgar '74 & Nancy Paup)…
"Robert Jacobus has gone thousands of extra miles to find first person accounts of the integration of football in Texas. It feels like hearing these gridiron pioneers tell a good story across the kitchen table. Black Man in the Huddle is not only an encyclopedic take on the topic of football, it gives a solid look into rigidly segregated Texas when institutionalized racism was the accepted norm."—Mike Vance, author, Houston Baseball: The Early Years 1861-1961
— Mike Vance
"Robert D. Jacobus has given us an eye-opening, compelling book about the integration of football in Texas as well as the often overlooked relationship between sports competition and the breakdown of segregated social systems in the modernizing South.  Beautifully written, Black Man in the Huddle explores how African American athletes, many of whom became household names, achieved great success in their careers despite the Jim Crow barriers facing them.  An uplifting, remarkable story in the evolving history of race relations in the United States . . . . Highly recommended."—James Kirby Martin, Hugh Roy and Lillie Cranz Cullen University Professor of History (Emeritus), University of Houston
— James Kirby Martin
"Athletics, especially in the Jim Crow Deep South, offered both black and white citizens their first up close and personal experiences with integration. In Texas, where football reigns supreme, nowhere was the transition more visible and personal than on the gridiron. Through Black Man in the Huddle, Robert Jacobus delivers an intensely insightful and groundbreaking look at this socially combustible era as it played out on football fields, in locker rooms, classrooms and communities around the state. His meticulous research exposes the racist and painful words and deeds black players endured as told to Jacobus in over 200 interviews that articulate what integration's awkward infancy was like for players and their coaches – black and white, high school and college. Jacobus makes us aware of how white players were forced to step away from their segregationist comfort zones to defy historically ingrained racial perceptions and accept their new black teammates, as athletes and as men. We see how both races learned about each other and eventually became supportive teammates and, for some, lifelong friends. This in-depth study also introduces us to African-American pioneers who were the first to integrate previously all-white programs and how those young men courageously performed under the pressure of death threats, vile verbal taunts from opposing players and fans, and violent play directed at them on the field. More than a few of those players were exceptionally talented, the best players on their newly-integrated teams, and would have hall of fame careers in college and professional football. Black Man in the Huddle is a fast-paced wonderful read that will become a treasured reference for fans and historians alike."—Michael Hurd, author of Thursday Night Lights, The Story of Black High School Football in Texas.
— Michael Hurd
"With Black Man in the Huddle, Robert Jacobus has performed a public service, tracking down, indefatigably, the pioneers of football integration in Texas and putting their voices to paper."—Asher Price, author of Earl Campbell: Yards After Contact
— Asher Price
"The collection of rich stories that make up the book illuminates the racial and regional nuances—and the significance of sport—in leveling the playing field of American education."—Journal of Southern History
— Journal of Southern History
"a modest but permanently valuable work, a labor of love."—Choice
— Choice
Texas A&M University Press, 9781623497514, 280pp.
Publication Date: September 3, 2019
About the Author
ROBERT D. JACOBUS is adjunct professor of history at Stephen F. Austin State University and was a teacher and coach in Texas public schools for twenty-six years. He is the author of Houston Cougars in the 1960s: Death Threats, the Veer Offense, and the Game of the Century. He resides in Village Mills, Texas.
or
Not Currently Available for Direct Purchase