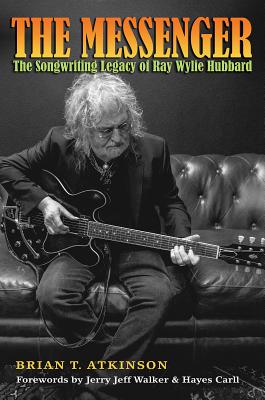 The Messenger
The Songwriting Legacy of Ray Wylie Hubbard (John and Robin Dickson Series in Texas Music, sponsored by the Center for Texas Music History, Texas State University)
Hardcover

* Individual store prices may vary.
Description
Texas singer-songwriter Hayes Carll declared, "Ray would be at the top of the list if I were gonna read about somebody's life." In The Messenger: The Songwriting Legacy of Ray Wylie Hubbard, author, journalist, and music producer Brian T. Atkinson demonstrates why Carll and so many others hold Ray Wylie Hubbard in such high regard. Atkinson takes readers into and beyond the seedy bar in Red River, New Mexico, where the incident occurred that inspired Hubbard's most famous song, "Redneck Mother." Hubbard tells the stories, and Atkinson enlists other musicians to expound on the nature of his abiding influence as songwriter, musician, and unflinching teller of uncomfortable truths.

Featuring interviews with well-known artists such as Eric Church, Steve Earle, Kinky Friedman, Chris Robinson, and Jerry Jeff Walker, and also mining the insights of up-and-comers such as Elizabeth Cook, Jaren Johnston, Ben Kweller, Aaron Lee Tasjan, and Paul Thorn, The Messenger makes clear why so many musicians across a wide spectrum admire Ray Wylie Hubbard. Readers will also learn why "Redneck Mother," the song that put Hubbard on the map for most listeners, is also a curse, of sorts, in its diminution of both his spiritual depth as a lyricist and his multidimensional musical reach. As Hubbard himself says, "The song probably should have never been written, let alone recorded, let alone recorded again.. . . the most important part of songwriting is right after you write a song, ask yourself, 'Can I sing this for twenty-five years?'" 

Atkinson's work makes a convincing case that Ray Wylie Hubbard's truest and most lasting contributions will long outlive him. And, with a couple of good breaks, they may even outlive "Redneck Mother."
Praise For The Messenger: The Songwriting Legacy of Ray Wylie Hubbard (John and Robin Dickson Series in Texas Music, sponsored by the Center for Texas Music History, Texas State University)…
"The Messenger takes us through Ray Wylie Hubbard's captivating musical journey, on the road and off, through thick and thin, told by friends and contemporaries that know him well. Ray Wylie is a genuine American folklore icon and The Messenger captures the spirit and color of his story in vivid detail. His songs explored. No stone left unturned. It's a great read for students of the Wylie Llama from the horses' mouths."—Bob Livingston, West Texas Walk of Fame
— Bob Livingston
"In The Messenger, Brian Atkinson delivers a vivid kaleidoscopic portrait of Ray Wylie Hubbard. Come to these pages for 'Redneck Mother' if you must—it's iconic, and it's here—but stay for a sense of Hubbard's continuing evolution as one of America's finest songwriters. To try to describe him through his songs is to risk missing the man for the myth. He becomes a surrealist and a shaman, an alchemist and a mystic. And, he is. But when his friends, peers, and fellow songsmiths tell the story as they do here, we get to the heart of it: Ray Wylie Hubbard is a fine writer and wit, a generous mentor and an artist whose work will stand the test of time. In collecting these stories from Texas Music's leading lights, Atkinson again proves he is among our best listeners and chroniclers, offering not simply a biography of an essential artist, but something like a map of the entire Texas scene viewed through the lens of Hubbard's extensive influence." —Jason Mellard, author of Progressive Country: How the 1970s Transformed the Texan in Popular Culture
— Jason Mellard
"Atkinson arranged and conducted insightful, enlightening interviews with a coterie of 'Character Witnesses' to create this novel, engrossing, wildly entertaining tome."—Elmore Magazine
— Elmore Magazine
Texas A&M University Press, 9781623497781, 272pp.
Publication Date: September 2, 2019
About the Author
BRIAN T. ATKINSON, author of I'll Be Here in the Morning: The Songwriting Legacy of Townes Van Zandt and coauthor of Kent Finlay, Dreamer, is an Austin-based freelance writer and music producer.