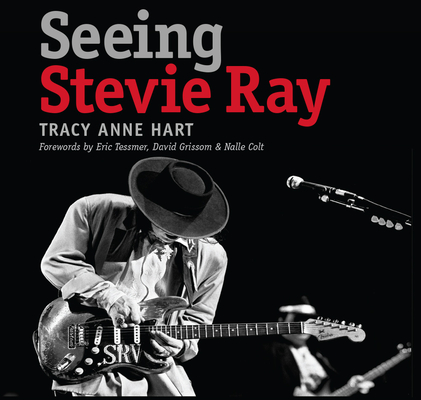 Seeing Stevie Ray (John and Robin Dickson Series in Texas Music, sponsored by the Center for Texas Music History, Texas State University)
Hardcover

* Individual store prices may vary.
Description
It may be difficult to say anything about Stevie Ray Vaughan that hasn't already been said. The skinny kid from Oak Cliff on the south side of Dallas who followed his older brother Jimmie in and out of local blues clubs and eventually to Austin would go on to establish himself as the finest guitar player of his generation and perhaps the best of all time. Vaughan was truly a conduit for the symphony of the universe. The music that flowed through him endeared him to hordes of fans and won him near-divine status among guitarists. Vaughan continues to inspire and enthrall even decades after his passing.
What others have attempted to portray in prose, photographer Tracy Anne Hart has expressed in imagery. From 1983 until just before his death in 1990, Hart captured Vaughan as he summoned magic with his passion, his technique, his intensity, and his love and respect for the music. The result is a deeply felt visual portrait of Stevie Ray Vaughan that tells us almost as much about the photographer behind the camera as it does about the musician in front. Through Hart's eyes and mind, readers will experience his genius in an entirely new way.
Hart also provides a glimpse at Vaughan's legacy, offering evidence of some of the next generation of guitarists who consider Vaughan a principal influence. The sum of her efforts comprises a work that offers a visual feast for guitar enthusiasts and music fans in Texas and beyond. Enjoy the photographs and remember to listen to Stevie's music as often and as loudly as possible!
Praise For Seeing Stevie Ray (John and Robin Dickson Series in Texas Music, sponsored by the Center for Texas Music History, Texas State University)…
"In these pixels, the music verges on deafening, but more pointedly, if you ever lost yourself in the maelstroms and slipstreams of Texas Flood, Couldn't Stand the Weather, or In Step, these photographs will burn into your frontal lobe. Pure image endures in the minds of those exposed."—Austin Chronicle
— Austin Chronicle
Texas A&M University Press, 9781623498139, 168pp.
Publication Date: April 20, 2020
About the Author
TRACY ANNE HART, a professional photographer since 1981, is the owner of The Heights Gallery (www.theheightsgallery.com). Her photographs of music legends have been exhibited in galleries and are in private collections from Texas to Australia. Her work has graced album and DVD covers, billboards, international magazines, and other media.