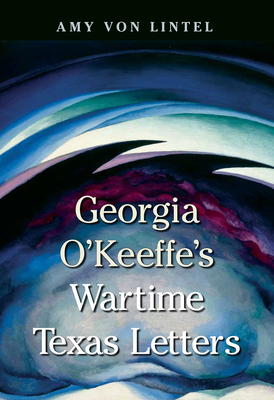 Georgia O'Keeffe's Wartime Texas Letters (American Wests, sponsored by West Texas A&M University)
Hardcover

* Individual store prices may vary.
Description
In 1912, at age 24, Georgia O'Keeffe boarded a train in Virginia and headed west, to the prairies of the Texas Panhandle, to take a position as art teacher for the newly organized Amarillo Public Schools. Subsequently she would join the faculty at what was then West Texas State Normal College (now West Texas A&M University). Already a thoroughly independent-minded woman, she maintained an active correspondence with her future husband, photographer Alfred Stieglitz, and other friends back east during the years she lived in Texas.
Amy Von Lintel brings to readers the collected O'Keeffe correspondence and added commentary and analysis, shining fresh light on a period of the artist's life she characterizes as "some of the least appreciated in the vast O'Keeffe scholarship," but also as "a time when she discovered her own voice as a young, successful, and independent woman . . . a dedicated faculty member at a brand-new college . . . a vibrant social butterfly . . . a progressive woman who spoke her mind and fought for her beliefs to be heard."
Although selected paintings by O'Keeffe that support the narrative are featured, this work focuses on O'Keeffe's words. By doing so, Von Lintel aims to allow the artist's voice to "emerge as a powerful witness of her own life, but also of western America in a pivotal moment of its development." The result is an important new examination of one of our most beloved artists during a time when she was in the process of discovering her future identity.
Praise For Georgia O'Keeffe's Wartime Texas Letters (American Wests, sponsored by West Texas A&M University)…
"Before becoming a professional artist, Georgia O'Keeffe taught art to make a living.  This book is a deep-dive into her several years of teaching school on the plains of Western Texas when she used letter-writing to sort out her feelings for art-making, for men, for family, for the open spaces of the American West, and for the heavy presence of daily war news and soldiers in the streets. Her letters candidly register the deep confusions, frequent joys, and unresolved contradictions of a highly independent young woman figuring out who she was and what she valued in life."—Wanda M. Corn, author of Georgia O'Keeffe: Living Modern
— Wanda M. Corn

"Amy Von Lintel's thoroughly researched, thoughtfully interpreted and contextualized, and deeply moving , Georgia O'Keeffe's Wartime Texas Letters reveals just how layered and impactful World War I was across the United States and especially to artists from all disciplines. This book is vital to a better understanding of the artist we all think we know."—Michael R. Grauer, author of Making a Hand: The Art of H.D. Bugbee
— Michael R. Grauer

"All my writing relies heavily on the research of scholars, and Amy von Lintel's latest book revealing O'Keeffe's wartime letters is a perfect example of the sort of meticulous and insightful writing and editing I depend on – engaging and scholarly." -Annabel Abbs, author of The Joyce Girl.
— Annabel Abbs
Texas A&M University Press, 9781623498498, 248pp.
Publication Date: March 31, 2020
About the Author
AMY VON LINTEL is the Doris Alexander Endowed Professor of Fine Arts at West Texas A&M University. She is the author of Georgia O'Keeffe: Watercolors and coauthor of Robert Smithson in Texas. She resides in Amarillo, Texas.
or
Not Currently Available for Direct Purchase