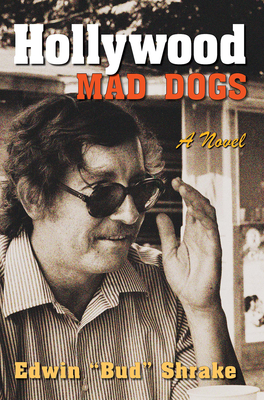 Hollywood Mad Dogs
A Novel (Wittliff Collections Literary Series)
Paperback

* Individual store prices may vary.
Description
Before his death in 2009, legendary Texas author Edwin "Bud" Shrake completed a final novel based on his real-life adventures as a Hollywood screenwriter in the 1970s and '80s. In this new book, we meet screenwriter Richard Swift, who has been lured away from his cushy job at Sports Illustrated to write a movie for Jack Roach, a matinee idol famous for his electric blue eyes, dimpled chin, and a swagger that makes women swoon. As Swift and his new movie star buddy hurtle through days and nights of Hollywood madness, Shrake's crystalline prose purrs like a Lamborghini speeding along the Pacific Coast Highway. There are spies and fake houses, mountains of drugs, weird sex, crimes, and bizarre feuds.
In Hollywood Mad Dogs, Shrake deftly satirizes a world where a screenwriter is supplied with a bag of cocaine and given a week to write a script, a star demands that a pet cat be his sidekick on the trail, and two competing box office titans square off on a golf course, "each of them armed with a putter." 
This rollicking new novel, discovered among Shrake's literary papers at the Wittliff Collections, provides a hilarious and insightful look at the Hollywood meat grinder. It is a story only Bud Shrake could tell, and it is a worthy addition to the author's celebrated career, which includes some of the most highly praised novels written by a Texan.
Praise For Hollywood Mad Dogs: A Novel (Wittliff Collections Literary Series)…
"Hollywood Mad Dogs is a romantic and specific telling of a sportswriter's migration through 1970s Hollywood, an evocative record of that particular haze, and told in the worldview of one who lived it. It centers on a McMurtry/Danny Deck-esque hero who floats through the bacchanalia of filmmaking, refusing to become a cog in the giant, jaded machine. It feels as if Shrake might have actually experienced all these things, just for the purpose of reliving them again on the pages of this book. An important addition to the dependably fun 'go West, young screenwriter' canon.—Richard Linklater, Academy Award nominated director & screenwriter
— Richard Linklater

"Edwin 'Bud' Shrake is one of the Lone Star State's essential writers. With vibrant prose and mordant wit, he brings alive that world of myth and machismo where a writer had two jobs: Raise life-threatening amounts of hell and stay alive long enough to put it on paper."—Sarah Bird, author of Daughter of a Daughter of a Queen
— Sarah Bird

"Hollywood Mad Dogs is Day of the Locust meets Fear and Loathing, but way funnier.  Nobody captures absurdity like Bud Shrake. He went down the Movie Magic rabbit hole with Movie Star Steve McQueen and missed nothing. It's dead solid perfect, all the peaches are stranger than ever, and Shrake never misses a step of the Hollywood shuffle."—William Broyles, Jr., Academy Award nominated screenwriter of Apollo 13 and Cast Away
— William Broyles Jr.

"What a delicious posthumous gift Edwin 'Bud' Shrake left us with his novel, Hollywood Mad Dogs. Like his earlier roman a clef, Strange Peaches, Hollywood Mad Dogs is dark, funny, insightful, and, ultimately, more than a little tragic. Part of the fun in reading it is figuring out which characters 'are' Steve McQueen, Fred Weintraub, Marvin Schwartz, and so on. But, again, like Strange Peaches, it is first and foremost a masterly example of great fiction writing. Drawing on his experiences as a screenwriter, Shrake managed to write one of the best novels ever written about Hollywood with Hollywood Mad Dogs. It captures Hollywood at a certain time in its history better than any novel before it."—W.K. Stratton, author of The Making of the Wild Bunch
— W. K. "Kip" Stratton
Texas A&M University Press, 9781623498825, 192pp.
Publication Date: December 7, 2020
About the Author
EDWIN "BUD" SHRAKE (1931–2009), dubbed "lion of Texas letters" by the Austin American-Statesman, was a member of the Texas Film Hall of Fame and a recipient of the Lon Tinkle Award for Lifetime Achievement from the Texas Institute of Letters. He was a founding member of Mad Dog, Inc., a notoriously unruly and irreverent gathering of writers. A screenwriter with credits including Tom Horn (Steve McQueen), Kid Blue (Dennis Hopper), and Songwriter (Willie Nelson, Kris Kristofferson), Shrake was also the author of Blessed McGill and Strange Peaches.