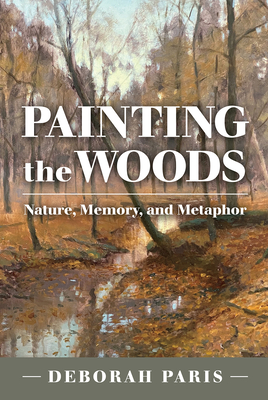 Painting the Woods
Nature, Memory, and Metaphor
Paperback

* Individual store prices may vary.
Description
When first-time author and artist Deborah Paris stepped into Lennox Woods, an old-growth southern hardwood forest in northeast Texas, she felt a disruption that was both spatial and temporal. Walking the remnants of an old wagon trail past ancient stands of pine, white oak, elm, hickory, sweetgum, maple, hornbeam, and red oak, she felt drawn into a reverie that took her back to "the beginning, both physically and metaphorically."
Painting the Woods: Nature, Memory and Metaphor explores the experience of landscape through the lens of art and art-making. It is a place-based meditation on nature, art, memory, and time, grounded in Paris's experiences over the course of a year in Lennox Woods. Her account unfolds through the twin arcs of the changing seasons and her creative process as a landscape painter. In the tradition of Annie Dillard's Pilgrim at Tinker Creek, narrative passages interweave with observations about the natural history of Lennox Woods, its flora and fauna, art history, the science of memory, Transcendentalist philosophy, the role of metaphor in creative work, and even loop quantum gravity theory.
Each chapter explores a different aspect of the forest and a different step in the art-making process, illuminating our connection to the natural world through language, comprehension of time, and visual depictions of the landscape. The complex layers of the forest and Paris's journey through it emerge as metaphors for the larger themes of the book, just as the natural world underpins the art-making drawn from it. Like the trail that winds through Lennox Woods, memory and time intertwine to provide a path for understanding nature, art, and our relationship to both.
Praise For Painting the Woods: Nature, Memory, and Metaphor…
"Reviving the nineteenth-century American tradition of the artist-naturalist, Paris paints the woods the way Thoreau painted them in words—combining disciplined observation, imagination, and insight until the trees flowers into a truth all her own. She skillfully interweaves the history and aesthetics of landscape painting with her own direct experience of a Southern hardwood forest, offering reflections along the way about the roles that drawing, memory, and metaphor play in her art. She reminds us also of the importance of distinguishing between what we see, what we notice, and what we remember. The result is art, on the canvas and in this book, that expresses the unique intention of her own eye while also offering a beauty that is universal."—Richard Higgins, author of Thoreau and the Language of Trees
— Richard Higgins

"In this marvelous fusion of art, poetry, natural history, and philosophy, Deborah Paris takes us on a journey through the mind of an artist as she transforms a beautiful old-growth forest in northeast Texas into a work of art, offering a lens into the nature of time, vision, memory, metaphor, and the creative process itself. Painting the Woods offers plenty of guidance for the aspiring artist, but this is no 'how-to' book—it's a 'why-to' book, written for anyone who seeks to turn memory into art and art into the engine that powers deeper understanding. Written in the spirit of Thoreau, Emerson, and Ruskin, this, too, is a book of stored magic, waiting for the reader to make it their own, in whatever corner of the world they inhabit."—Laura Dassow Walls, author, Henry David Thoreau: A Life (2017)
— Laura Dassow Walls

"Thoreau wrote that we 'cannot see anything until we are possessed with the idea of it, take it into our heads.' It is what both artists and writers do. In Deborah Paris' extended conversation with the ideas of Thoreau, we find a beautiful ode to nature interpreted, heartfelt and personal, and the role of the artist who has been possessed with the idea of memory and how it informs her art. It's like floating down a river with an old friend."—Jeffrey S. Cramer, editor of The Portable Thoreau
— Jeffrey S. Cramer

"With a pure vision and focused interest akin to that of Thoreau, Deborah Paris has left her mark on Lennox Woods. Her depiction of those woods, both in words and in pigment, is transcendent."—T. Allen Lawson, artist
— T. Allen Lawson

"Sure to be a classic, Deborah Paris's book will sit on my shelf alongside Henry Thoreau, Annie Dillard, Mary Oliver, Aldo Leopold, and Peter Wohlleben. She is an artist with a poet's voice and a naturalist's eye, and she has something fresh and timeless to say about how one looks at the world."—Sandra Scofield, author of Mysteries of Love and Grief and other books
— Sandra Scofield

"Deborah Paris takes us on a marvelous, thoughtful ramble through Lennox Woods, weaving together history, memory, and metaphor. Through a seasoned artist's eye and keen intellect she brings together past, present, and future in the lifecycle of the forest and how it mirrors our own existence. Through her medium of painting she presents the imperative of deep, sustained connection to her subject and a profound sensory delight in taking the time to slow down and see more deeply. A lovely reminder for us all."—Joe Paquet, artist
— Joe Paquet

"Deborah Paris writes as well as she paints, with feeling and extraordinary insights into the process of seeing both as an artist and naturalist. Steeped in the writings of Thoreau and the history of landscape painting, Paris brilliantly describes the various ways of 'seeing' nature—through memory, science, and art—all to the benefit of the picture-making process. She wonderfully describes how she seeks to become a participant in nature, not simply an observer, moving towards the transcendentalist's stance of radical subjectivity, where the perceiver and the perceived become one. 'Pure Seeing' is the term of art Paris uses to describe her sense of oneness with nature and the alembic out of which her work evolves to express her deepest emotions on canvas. By concentrating her focus on places she knows well and loves, places which evoke memories out of her past, she discovered she was able to combine the free associations of past and present experience with a naturalist's knowledge and an artist's feeling and so blaze a uniquely personal style of painting. Her admonitions to artists are inspirational: learn to notice what you notice; find what is truly compelling; practice drawing nature, not just recording it with photography. True art, the author stresses, is about 'find [ing] the things we were meant to paint . . . Each of us must find our own country.' Painting the Woods is an indispensable volume for painters and anyone who is interested in landscape painting, but it is more: a beautiful prose poem evoking the most essential qualities of being human—seeing with and through emotions as a path to deeper insights into oneself. Paris is not only following in the footsteps of Thoreau and her Tonalist antecedents but sharing a very personal journey that is all her own. Her evocative storytelling about losing herself in Lennox Woods near her northeast Texas home reminded me of Faulkner's classic tale, "The Bear," in which a young boy, while hunting season after season, learns not only about tracking and wood lore, but about the greatest and most compelling quarry of all: our shared humanity." —David Adams Cleveland, author of A History of American Tonalism, 1880 to 1920: Crucible of American Modernism
— David Adams Cleveland

"I found myself bowled over by Deborah Paris's Painting the Woods. Interweaving experience and memory with her keen skill at observation, she makes us fellow travelers on her journey toward under-standing and painting the woods. With great sensitivity she shares her meditations, further informing our understanding of the woods by sharing the thoughts of Thoreau, Constable, Plutarch, and many others. While Painting the Woods is an essential companion for artists, it will be equally fascinating for those who love splendid writing about nature."—Donald Jurney, artist
— Donald Jurney

"It is impossible to resist the invitation to walk beside author Deborah Paris, an artist who has 'found a home in the woods' that is 'refuge and prospect.'
In lyric prose, Paris describes her year of searching the woodland landscape of East Texas for the moods, metaphors, and memories that she will transform onto canvas.
As she explores layered and lit paths, beside streams and into bottomlands, the artist accumulates image and sensory detail that will be unveiled in her studio.
As the woodlands and weather that inspire painter and author are interdependent on intertwined root systems and seasonal shifts, so art historian, painter, and naturalist Deborah Paris's new body of work on canvas will emerge from the confluence of memory, Pure Seeing, imagination, poetry, and Tonalist technique.
To be in this artist's company as she explores Lennox Woods, as she 'pushed back the fog . . . to reveal what was hidden' is to become intimate with one woman's practice to pause, witness, identify, and record resonant moments, 'to become both forest and human.' Readers, whether layperson or artist, become seekers on their own journey toward wonder and its expression.
What joy to navigate the paths in snow, filtered sun, and rain beside such a humble and passionate guide. I did not want the moments when 'sight becomes insight' to end." —Barbara Rockman, author of Sting and Nest, winner of the New Mexico–Arizona Poetry Book Award and to cleave, winner of the National Federation of Press Women Poetry Prize; Finalist, International Book Award
— Barbara Rockman
Texas A&M University Press, 9781623499181, 166pp.
Publication Date: November 27, 2020
About the Author
DEBORAH PARIS is a landscape painter whose work has been exhibited at Laguna Art Museum in Laguna Beach, California; Panhandle-Plains Historical Museum in Canyon, Texas; National Cowboy and Western Heritage Museum in Oklahoma City; Gilcrease Museum in Tulsa; and other distinguished venues. Making her home in Clarksville, Texas, she teaches and lectures nationwide.
or
Not Currently Available for Direct Purchase