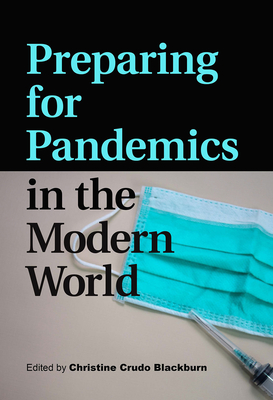 Preparing for Pandemics in the Modern World
Hardcover

* Individual store prices may vary.
Description
The Black Death. Cholera. Spanish flu. Swine flu. HIV/AIDS. COVID-19/SARS-CoV-2. Each of these pandemics has made (or, is making) a lasting impact on humanity. From the immediate mental image of the beaked masks worn in the Middle Ages (bubonic plague) and the birth of epidemiology (cholera) to recognizing the benefits of social distancing (1918 flu) and the harm of prejudice and misinformation (HIV/AIDS), pandemics have shown us how to survive infectious disease, as long as we heed their lessons.
Preparing for Pandemics in the Modern World, edited by Christine Crudo Blackburn, brings together experts on pandemic preparedness and biosecurity to explore areas of weakness in pandemic prevention, preparedness, detection, and response. Even as COVID-19 makes its way around the world, leaders and policymakers are tasked with thinking ahead and preparing to effectively respond to the next such event—which experience shows us to be a matter of "when," not "if." Inside, chapters are divided into sections on the lessons learned from the 1918 influenza pandemic, the application of the One Health concept, and the role of the private sector in responding to potentially devastating disease outbreaks.
A chapter on the impacts of supply chain disruption—in light of COVID-19—and an epilogue that discusses the current outbreak make Preparing for Pandemics in the Modern World a timely and accessibly written compilation on pandemic prevention, preparedness, detection, and response.
Texas A&M University Press, 9781623499464, 208pp.
Publication Date: December 22, 2020
About the Author
CHRISTINE CRUDO BLACKBURN is deputy director of the Pandemic and Biosecurity Policy Program at the Scowcroft Institute of International Affairs at the Bush School of Government and Public Service and an adjunct faculty member in the Department of Health Promotion and Community Health Sciences at the Texas A&M University School for Public Health.