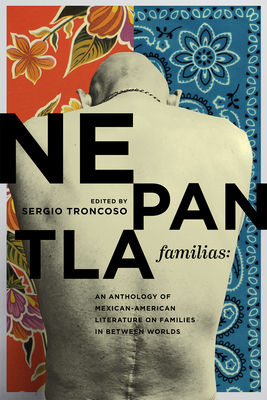 Nepantla Familias
An Anthology of Mexican American Literature on Families in between Worlds (Wittliff Collections Literary Series)
Hardcover

* Individual store prices may vary.
Description
"A deeply meaningful collection that navigates important nuances of identity."—Kirkus Reviews, starred review

2021 Texas Book Festival Featured Book

Nepantla Familias brings together Mexican American narratives that explore and negotiate the many permutations of living in between different worlds—how the authors or their characters create, or fail to create, a cohesive identity amid the contradictions in their lives. Nepantla—or living in the in-between space of the borderland—is the focus of this anthology. The essays, poems, and short stories explore the in-between moments in Mexican American life—the family dynamics of living between traditional and contemporary worlds, between Spanish and English, between cultures with traditional and shifting identities. In times of change, family values are either adapted or discarded in the quest for self-discovery, part of the process of selecting and composing elements of a changing identity.
Edited by award-winning writer and scholar Sergio Troncoso, this anthology includes works from familiar and acclaimed voices such as David Dorado Romo, Sandra Cisneros, Alex Espinoza, Reyna Grande, and Francisco Cantú, as well as from important new voices, such as Stephanie Li, David Dominguez, and ire'ne lara silva. These are writers who open and expose the in-between places: through or at borders; among the past, present, and future; from tradition to innovation; between languages; in gender; about the wounds of the past and the victories of the present; of life and death.
Nepantla Familias shows the quintessential American experience that revives important foundational values through immigrants and the children of immigrants. Here readers will find a glimpse of contemporary Mexican American experience; here, also, readers will experience complexities of the geographic, linguistic, and cultural borders common to us all.

Includes the work of

David Dorado Romo
Reyna Grande
Francisco Cantú
Rigoberto González
Alex Espinoza
Domingo Martinez
Oscar Cásares
Lorraine M. López
David Dominguez
Stephanie Li
Sheryl Luna
José Antonio Rodríguez
Deborah Paredez
Diana Marie Delgado
Diana López
Severo Perez
Octavio Solis
ire'ne lara silva
Rubén Degollado
Helena María Viramontes
Daniel Chacón
Matt Mendez
Praise For Nepantla Familias: An Anthology of Mexican American Literature on Families in between Worlds (Wittliff Collections Literary Series)…
"Such a window, such an ax, into the hard, human struggles of writers, sisters and brothers here — resolving, harmonizing and perhaps, simply just telling their Nepantlas. These lives in-between bridges of culture, of gender, of memory and presence, invisibility and courage, of raped bodies on the precipice of healing and wholeness, of speaking versus silence, of shame in-between wholeness, of big time university life then riding back to Segundo Barrio DNA. And of mothers drifting and daughters blazing in the Now. Each page, a revelation. Each story, a valley of tears and a mountain of triumph. This Nepantla Familia will tear your heart open. You will finally get to feel like a human being. You will have humanity in your hands. One of a kind, I thank Troncoso for this anthology — I bow before these writers of truth and love. A mega-ground-crackling and life expanding house of diamonds."—Juan Felipe Herrera, Poet Laureate of the USA, Emeritus
— Juan Felipe Herrera

"Anthologies are snapshots of specific cultural moments and this one by Sergio Troncoso comes at a time of anti-immigrant sentiment and ideological polarization. As is clear from these rewarding pages, we Mexican-Americans have ancestral knowledge about that fracture. But we don't panic. Instead, we first build bridges and then cross them because we know that a life divided is, in fact, incommensurably rewarding. Kudos to the contributors for their courage to put the pieces of the bridge together."—Ilan Stavans, author of Popol Vuh: A Retelling and The Seventh Heaven: Travels through Jewish Latin America
— Ilan Stavans

"Bursting with a broad range of high-quality essays, poems and short stories, Nepantla Familias offers the reader a full banquet of modern Mexican American writings on spiritual, psychological, and international borderland experiences. These award-winning writers explore the Aztec concept of Nepantla, life on a philosophical borderland that describes not only the mestizo conundrum but the reality of every human being open to the contradictions and conflicts of their own uniqueness."—Carmen Tafolla, State Poet Laureate of Texas
— Carmen Tafolla

"Open this book, trace the seam with your fingertips, caress the page, and let the words linger on your lips; let them lead you to Nepantla, where we dare and dance and delight and dream and wait as we always have. What a beautiful collection! I loved it."—Guadalupe Garcia McCall, author of All the Stars Denied and Summer of the Mariposas
— Guadalupe Garcia McCall
Texas A&M University Press, 9781623499631, 262pp.
Publication Date: April 21, 2021
About the Author
SERGIO TRONCOSO is the author of The Last Tortilla and Other Stories, A Peculiar Kind of Immigrant's Son, and Crossing Borders: Personal Essays. He coedited Our Lost Border: Essays on Life amid the Narco-Violence, which won the Southwest Book Award from the Border Regional Library Association and the International Latino Book Award for Best Latino-focused Nonfiction Book. A Fulbright scholar, Troncoso is a resident faculty member of the Yale Writers' Workshop and president of the Texas Institute of Letters.