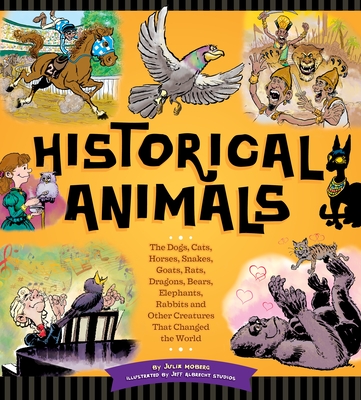 Historical Animals
The Dogs, Cats, Horses, Snakes, Goats, Rats, Dragons, Bears, Elephants, Rabbits and Other Creatures that Changed the World
Hardcover

* Individual store prices may vary.
Description
Throughout history, animals have shaped the world as we know it. But rarely have they received the recognition they deserve. Until now.

This inside look at history's most famous animals features wacky verse, cool facts, historical stats, and zany cartoon art. Meet Alexander the Great's horse Bucephalus, who was his battle companion for nearly 30 years. Learn about Mozart's starling bird that helped him write music by singing along as he composed. Read about the Ethiopian goats that discovered the coffee bean, Marco Polo seeing dragons in China, and a dog named Boatswain that saved Napoleon's life. From the cobra that killed Cleopatra to Cairo, the dog that helped hunt down Osama bin Laden, Historical Animals has these stories and more!
Praise For Historical Animals: The Dogs, Cats, Horses, Snakes, Goats, Rats, Dragons, Bears, Elephants, Rabbits and Other Creatures that Changed the World…
Moberg (Presidential Pets) celebrates animal celebrities, both well known and forgotten, with subjects that include Rin Tin Tin, Punxsutawny Phil, and Dolly the sheep. Companions to famous humans include Seaman, a Newfoundland that accompanied Lewis and Clark during their explorations; Mozart's starling, which sang along with his musical compositions; and Peter Piper, the rabbit that inspired Beatrix Potter's work. Moberg introduces each animal with a peppy poem, explaining why it is notable ("In nineteen fifty-two/ During the Korean War,/ A Mongolian mare named Reckless/ Joined the Marine Corps"), followed by bulleted lists of facts about the animal that offer historical and social context. Full of wild-eyed, slavering, and scraggly creatures, Albrecht's caricatures exude attention-grabbing madcap energy, though are somewhat at odds with the tone of the text.
-Publishers Weekly

Alexander the Great would have been nothing without his horse, Bucephalus. Jane Goodall would not have been able to conduct her scientific research without the cooperation of her chimpanzee subjects. Secretariat's wins on the track defined the sport of horse racing. Using a format similar to the author and illustrator's Presidential Pets (2012), Moberg offers brief biographies of history's most influential creatures to highlight the symbiosis between humans and their animal companions. Some are practically celebrities, such as Beatrix Potter's Peter Rabbit and Punxsutawney Phil, while others are not so well known, such as the nameless Newfoundland that saved Napoleon Bonaparte when he fell overboard in the Mediterranean and Cher Ami, the carrier pigeon who saved an entire battalion in WWI. Each story is told in the form of a short rhyming poem and accompanied by a full-page color illustration in an appealing cartoon style. Historical stats about the events and people involved, as well as extra trivia about the species, fill the rest of each page. The format is reader-friendly, and the subject matter is undeniably fascinating.
-Booklist

Chock-full of well-known animals, as well as historical figures associated with different creatures, this title will attract budding history buffs. Arranged chronologically, the book includes Cleopatra and the asp responsible for her death; Beatrix Potter and the pet rabbit upon which she based her stories; and Elsa the lion, who was adopted—and eventually freed—by Joy and George Adamson. Each entry contains a poem that describes the animal or event in question, while "Historical Stats" includes basic information on either the historical personage or the animal. "Did You Know?" and "Tell Me More!" sections feature brief, related factoids (under "Rin Tin Tin," readers will learn about the use of dogs in film and on TV). A full-page, caricaturelike cartoon accompanies each entry. Anthropomorphism abounds: Nero's tiger is shown feasting with the ancient emperor, while Charles Darwin converses with his animal buddies. While adults might groan at the sometimes forced humor and poetry, the intended audience will eat this one up. Historical fluff? Maybe, but if nothing else, this silly yet persuasive effort will coax readers into enjoying history. VERDICT An entertaining addition, though this selection won't take the place of more serious works.
-School Library Journal
Charlesbridge, 9781623540487, 96pp.
Publication Date: February 10, 2015
About the Author
Julia Moberg grew up in Grand Rapids, Michigan, and Southlake, Texas. She atttended New York University where she received both her B.F.A. and M.F.A. in Dramatic Writing at Tisch School of the Arts. She is the author of Skies Over Sweetwater, a young adult novel. She currently splits her time between Paris, France, and Nashville, Tennessee.
or
Not Currently Available for Direct Purchase