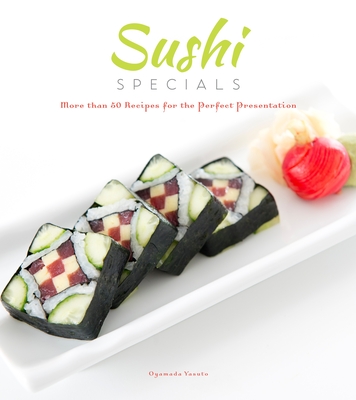 Sushi Specials (Hardcover)
More than 50 Recipes for the Perfect Presentation
Imagine, 9781623540562, 128pp.
Publication Date: March 3, 2015
* Individual store prices may vary.
Description
Master sushi chef Oyamada Yasuto offers a perfect fusion of East and West with a vibrant collection of recipes combining Japanese principles with fresh ingredients that will enable aspiring sushi chefs to prepare amazing dishes that any restaurant would be proud to call their own.  From sashimi specials to fusion rolls to nigiri, gunkan, and inari, this giftable collection offers more than 50 recipes to try and savor.

All recipes are beautifully photographed with clear how-to images, and those new to Japanese cooking will appreciate the introduction to basics, the descriptions of important ingredients, and the detailed explanation of key tools and resources.
About the Author
Oyamada Yasuto began as an apprentice in Japan at the age of sixteen, moving to Tokyo to learn the traditional ways of handling fish. From there he moved to New York, working in various restaurants to study under sushi masters. He opened his own restaurants in London and St. Petersburg, Russia. His Japanese fusion style was honed at Morimoto in New York, and his newest restaurant, Fugu, is in Tel Aviv, Israel
Praise For Sushi Specials: More than 50 Recipes for the Perfect Presentation…
Thirty years ago, most Americans hadn't heard the word "sushi" and would never have considered eating raw fish—wrapped in seaweed, no less. Nowadays, you can hardly swing a mackerel without hitting a sushi restaurant in any urban neighborhood or suburban strip mall. Going out for sushi is getting to be as commonplace as grabbing a pizza, and it shows no signs of letting up.

In Sushi Specials, master sushi chef and restaurateur Oyamada Yasuto shares his expert technique so home cooks can recreate his jewel-like creations. With plenty of elegantly styled photographs, he discusses the necessary ingredients and offers recipes for basic building blocks, popular sushi and sashimi dishes, and his own "Japanese fusion" entrées.

While many cooks may never have the skills or gumption to attempt more than a simple plate of sashimi or sushi, readers will see more complicated presentations of such dazzlers as Crunchy Spicy Tuna or the Tuna and Egg Omelet Maki featured on the front cover with its exquisite mosaic design. The book is also useful for describing the various kinds of sushi—gunkan (nori boats topped with rice and soft ingredients), inari (fried tofu pockets filled with sushi items), and nigiri (rice ovals with fishy tops). Whether this book serves as a how-to cookbook or as a field guide to restaurant outings, Sushi Specials is an excellent choice for all sushi lovers.
—Foreword Reviews