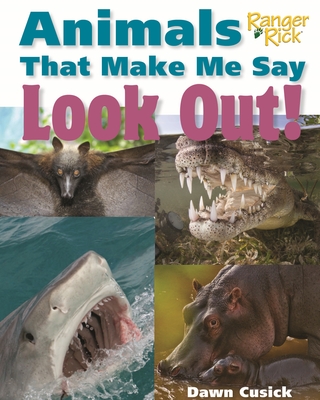 Animals That Make Me Say Look Out! (National Wildlife Federation) (Animals That Make Me Say...) (Hardcover)
Charlesbridge, 9781623540807, 80pp.
Publication Date: August 23, 2016
Other Editions of This Title:
Hardcover (10/14/2014)
Hardcover (10/14/2014)
* Individual store prices may vary.
Description
Hey! Look out!
 
Sharp-eyed readers will need to keep their eyes peeled in this engaging look at how animals of all shapes and sizes blend in and survive in their native ecosystems.
 
How do animals deal with danger? From crocodiles standing on their tails to great white sharks with their jaws wide open to well-camouflaged venomous snakes, prospective naturalists and conservationists will have a lot to look out for in this exploration of dynamic ecosystems and the animals that hide and hunt in them.
 
Back matter includes glossary, curated reading list and a scavenger hunt.
About the Author
As America's conservation organization, The National Wildlife Federation is a voice for wildlife, dedicated to protecting wildlife and habitat and inspiring the future generation of conservationists.
                                       
Dawn Cusick writes award-winning children's nature nonfiction books recognized for their quality by the National Science Teacher's Association, the Animal Behavior Society, and the American Association for the Advancement of Science. Her books include, Animal Snacks, Animal Tongues, Animals That Make Me Say OUCH!, and more. She lives in Asheville, North Carolina.
Praise For Animals That Make Me Say Look Out! (National Wildlife Federation) (Animals That Make Me Say...)…
The author of Animals That Make Me Say Ouch! (2014), ...Wow! (2014), and ...Ewww! (2016) offers a fresh set of stock nature photographs on the general theme of animal defensive behaviors and features. That theme feels like it's only a pretext, and she drops it halfway through anyway. In the first part, headed "Look out for animals on the defense," she gathers views of wild creatures--predators and prey alike--flashing teeth or tusks, rearing up in aggressive threat displays, charging, playing dead, tussling, hiding, and using camouflage, venom, or skin poison. In the second, unrelated, section, she urges readers to "Look out for ways to protect animals." Instead of offering any real concrete "ways," however, she just identifies several dozen kinds of animals whose populations are declining from assorted hazards such as habitat loss or competition from invasive species. Some of the larger photos, at least--a drooling Florida panther, a crocodile lunging out of the water with jaws gaping, burrowing owls lined up alertly like avian meerkats, a tree frog hanging by one toe--rise above the ordinary. While casual readers will find the simply phrased descriptions and explanations next to the pictures easily digestible, a closing set of activities will give budding naturalists some healthy challenges. Average visuals compared to other entries in the series and a formula that is plainly wearing thin.
- Kirkus Reviews

This latest in the Animals That Make Me Say...series provides a wide array of information on how animals in the wild behave when threatened. Split into two parts, the first, "Look Out for Animals on the Defense," breaks down the various types of defense mechanisms animals use when protecting themselves and their young. Organized by behavior rather than by animals, this provides examples of creatures using tactics that range from a threatening charge (bears, rhinos, even birds" to camouflage and playing dead (opossums, many species of frogs and snakes). These behaviors are utilized both by animals avoiding predators and those hunting for prey. Glossy close-up photos of the animals discussed accompany facts on teeth and tusks, animal fighting styles, and the difference between poison and venom. The second part, "Look Out for Ways to Protect Animals," discusses the ways animal survival can be threatened, both by other animals, as with invasive species, or because of human interference. An interesting, if introductory, overview of a subset of animal behavior.
- Booklist