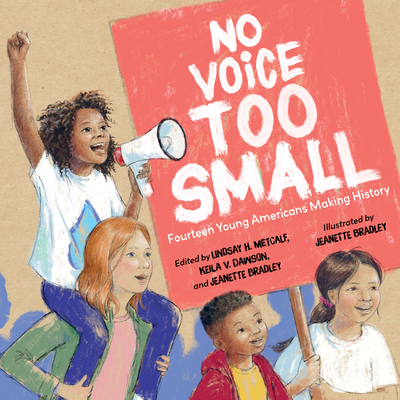 No Voice Too Small
Fourteen Young Americans Making History
Hardcover

* Individual store prices may vary.
Description
Fans of We Rise, We Resist, We Raise Our Voices will love meeting fourteen young activists who have stepped up to make change in their community and the United States.

Mari Copeny demanded clean water in Flint. Jazz Jennings insisted, as a transgirl, on playing soccer with the girls' team. From Viridiana Sanchez Santos's quinceañera demonstration against anti-immigrant policy to Zach Wahls's moving declaration that his two moms and he were a family like any other, No Voice Too Small celebrates the young people who know how to be the change they seek. Fourteen poems honor these young activists. Featuring poems by Lesléa Newman, Traci Sorell, and Nikki Grimes. Additional text goes into detail about each youth activist's life and how readers can get involved.
Praise For No Voice Too Small: Fourteen Young Americans Making History…
♦ Tributes in prose and poetry to children and teens of today who have spoken out to support a cause or protest injustice.
Budding activists in search of child role models beyond the high-profile likes of Malala Yousafzai and Greta Thunberg may well draw inspiration from this less-intimidating—but no less brave and worthy—lineup. For each, a poem by one of 14 poets and a laudatory paragraph flank an engaging, soft-focus portrait by Bradley that digitally emulates chalk and pastels on a textured brown background. "Each activist," write the editors, "inspired a poet who relates to an aspect of the activist's identity." New Yorker Charles Waters, for instance, gives a shoutout to 6-year-old Samirah "DJ Annie Red" Horton, "proudly / representing the People's Republic of Brooklyn" with her anti-bullying rap; Zach Wahls, founder of Scouts for Equality, poses with his two moms next to a triolet from Lesléa Newman. Other contributors, including Carole Boston Weatherford, Janet Wong, and Joseph Bruchac, honor young people making good trouble in areas of contention as varied as climate change, gender identity, immigration law, safe drinking water, and gun violence. The contributors are as diverse of identity as their young subjects, and as a sidelight the poems are cast in a variety of identified forms from free verse to reverso, cinquain, and tanka.
Never too soon to start stirring things up: "We may be small / but / we / can / ROAR!"
—Kirkus Reviews, starred review


This inspiring title profiles 14 young people who are a positive force for change. The young activists vary in age and actions, but they all took remarkable steps to improve their communities and country. Levi Draheim joined forces with other young people to sue the United States over climate change. Mari Copeny, known as "Little Miss Flint," raised money and awareness to combat the Flint, MI, water crisis. Zach Wahls campaigned for LGBTQ equality within the Boy Scouts of America. A brief biography detailing the spotlighted individual is paired with a poem, each written by a different poet. Back matter includes brief explanations of the poetry forms used throughout the book, such as free verse and spoken word. The back matter also features brief biographies of the poets (including Nikki Grimes, Hena Khan, and Charles Waters), whose commitment to diverse and inclusive children's literature is evident from their remarkable body of work. The illustrations are lovely. Portraits of the children on brown paper wonderfully enhance the text. All readers will be empowered. VERDICT An excellent selection for poetry and social justice collections; a helpful resource to teach students about poetry and its many forms.
—School Library Journal
Charlesbridge, 9781623541316, 40pp.
Publication Date: September 22, 2020
About the Author
•  Lindsay H. Metcalf grew up on a Kansas farm and is the author of Farmers Unite! Planting a Protest for Fair Prices. An experienced journalist, Lindsay has covered a variety of change-makers as a reporter, editor, and columnist for the Kansas City Star and other news outlets. www.lindsayhmetcalf.com
  •  Keila V. Dawson was born and raised in New Orleans. She has been a community organizer and an early childhood special education teacher. She has lived in the Phillipines, Japan, and Egypt. She is the author of The King Cake Baby. www.keiladawson.com
  •  Jeanette Bradley has been an urban planner, an apprentice pastry chef, and the artist-in-residence for a traveling art museum on a train. She is the author and illustrator of Love, Mama. Jeanette lives in Rhode Island with her wife and kids. www.jeanettebradley.com