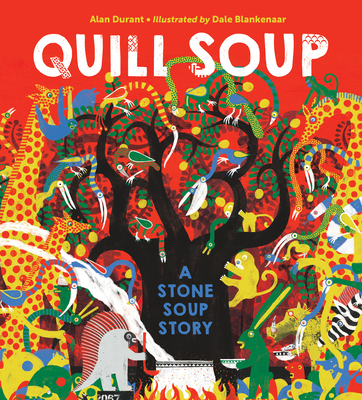 Quill Soup
A Stone Soup Story
Hardcover

* Individual store prices may vary.
Description
Gather round for soup fit for the king in this vibrant twist on a classic fable.

With brightly colored art and engaging characters, this retelling of the well-known Stone Soup story will captivate young readers. Noko the traveling porcupine arrives in a village. He's denied food and a place to sleep by all the animals he meets. Finally he's granted a fire and a large pot of water. He adds a few of his quills to make his famous quill soup, which he says the king loves! Slowly but surely, everyone contributes ingredients--carrots, beans, and more. Will the soup feed them all?
Praise For Quill Soup: A Stone Soup Story…
From South African, an animal retelling of the "Stone Soup" folktale.
The stranger in this version is Noko, a porcupine. Having traveled without food "through the Valley of a Thousand Hills," he arrives in a village hungry. When the villagers refuse him food, he creates a "thick and rich" soup with nothing but hot water and three of his own quills—and, of course, all the other ingredients that the villagers contribute. Impressed by Noko's claim to have fed this soup to the king, they fork over carrots, mealies, beans, spinach, and more. The king, not present but imagined, is a lion; the villagers are Meerkat, Warthog, Rabbit, and bunches of others. The setting, called a village, is both bustling and ambiguous—an amalgam of village, forest, and jungle. The scenes are intensely crowded and bursting with energy; both animals and backgrounds are styled in two dimensions, so everything overlaps on one plane. These animals aren't living in a specific static location so much as a world of bright red, yellow, blue, green, black, and white shapes and patterns. Occasionally an element seems industrial, such as small rounded rooms connected by ladders and tunnels that evoke factory pipes, but it's not definite. Flap copy says that illustrator Blankenaar took inspiration from African sources ranging from broad to specific: "Tanzanian artwork, the wood sculpture of Western Africa, and the costumes and masks of the Bwa people of Burkina Faso."
Visually dynamic.
—Kirkus Reviews

Durant's appealing twist on "Stone Soup" follows the adventures of Noko, a porcupine, who comes to a village after "traveling through the Valley of a Thousand Hills." Upon arrival, he is delighted—at last, somewhere to rest, and something to eat. The suspicious local animals hide and refuse to give him food, but Noko's "brain was as sharp as the quills on his back." When he starts to cook a quill soup and claims that it is beloved by the king, the other animals, impressed, join in—Meerkat finds "mealies" and Pangolin adds worms—to make it just the way His Majesty likes it, and soon enough, there is soup enough for all to share. The book's greatest appeal is Blankenaar's vibrant, layered illustrations, which use stylized, blocky shapes and bold shades of red, blue, yellow, green, and black to conjure the bustling biodiversity of South African wild places.
—Publishers Weekly

This retelling of the traditional "Stone Soup" tale stars a porcupine named Noko, hungry, tired, and seeking hospitality in a small village; and features animals of South Africa—monkeys, meerkats, aardvarks, and warthogs, who refuse to share their obvious plenty. Noko plucks three of his quills and sets about making soup, "just how His Majesty likes it." The text is engagine and readable ("his brain wasa as sharp as the quills on his back"), albeit with few of the structural hallmarks of an oral tale (and no source note). It is South African artist Blankenaar's imagery that pulls readers into the story. Stylized shpes in strong colors spill off every page. The illustrations, with the texture of block prints, are bold and flat. The animal homes, seen in a cutaway side view, are an intriguing jumble of natural and human-made elements for instance, rabbits live underground in warrens but use electirc light fixtures and ladders). Opening endpapers in black, white, and shades of gray, wet the stage for Noli's hnger and isolation. The book closes with colorful endpapers when "with a full tummy and a happy heart, Noko the traveler went to sleep at last." Birds, snakes, three branches, and animals' tails twine together, creating an interconnected world in which animals will eventually—even if they have to be tricked—accept a needy stranger into their community.
—The Horn Book

Charlesbridge, 9781623541477, 40pp.
Publication Date: September 15, 2020
About the Author
Alan Durant writes fiction for all ages, from preschool prose to poetry for adults. His picture books include Burger Boy, illustrated by Mei Matsuoka. Alan lives with his partner and three children in Brighton, England.

Dale Blankenaar is a full-time picture book illustrator and designer from South Africa. He has illustrated about thirty picture books and has won several awards including the Image of the Book, an international competition for book illustration and design for Quill Soup.