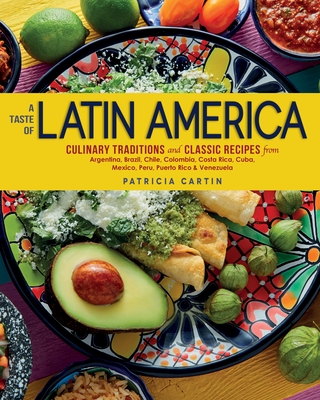 A Taste of Latin America (Hardcover)
Culinary Traditions and Classic Recipes from Argentina, Brazil, Chile, Colombia, Costa Rica, Cuba, Mexico, Peru, Puerto Rico & Venezuela
Imagine, 9781623545215, 176pp.
Publication Date: October 3, 2017
* Individual store prices may vary.
Description
Latin American food is steeped in history and tradition. From Peru's spicy and citrusy ceviche to hearty Colombian beef, pork, and seafood stews to Argentina's silky, sweet dulce le leche desserts, cooks of all skill levels are invited to discover what make this region's cuisine incomparable.  Complete with four-color photographs, expertly crafted recipes and additional insight on the background and customs of each country featured, budding chefs and seasoned experts alike will be enticed by this authentic and unique compilation.
About the Author
Patricia Cartin knows of which she cooks. A native Costa Rican, she immigrated to the United States in 2007, experiencing the flavors of the South, Southwest, and New England before settling in New York, where she attended the International Culinary Center. She now shares these cooking and baking techniques with her own students and teaches workshops including 'Tapas from Spain', 'Costa Rican Food at Home', 'Just Finger Food',  'Latin American Food' and 'Amazing Cakes'. Patricia has cooked for the President of Costa Rica at University receptions, and caters for the Permanent Mission of Costa Rica to the United Nations. She travels extensively, visiting and tasting with family members living throughout Latin America. These experiences allowed Patricia to hone her knowledge of the unique ingredients and flavors found in each Latin American nation. Patricia currently resides in King's Point, New York, with her husband and favorite food taster, Juan Jose Leon. A Taste of Latin America is her second cookbook.
Praise For A Taste of Latin America: Culinary Traditions and Classic Recipes from Argentina, Brazil, Chile, Colombia, Costa Rica, Cuba, Mexico, Peru, Puerto Rico & Venezuela…
Cartin's second cookbook (Dessert Party, 2014) provides over 7 dishes, which sure to be both familiar and not, that home chefs can readily master. Mostly designated as either easy or intermediate in difficulty, the recipes also offer clear instructions, good color photographs, and serving or technique tips, such as the best methods for heating tortillas. One-page introductions for each of the 10 represented countries' cuisines identify prevalent culinary themes—chocolate and avocado in Mexico; a Germanic influence in Chile; and corn, squash, and potatoes in Costa Rica—and provide important differentiations in beginning to understand gastronomic customs. Old and soon-to-be favorites nestle comfortably: huevos rancheros and crab stew, bollo picante vegetarian (steamed spicy vegetarian cornmeal roll) and alfajores. Home cooks will find a good avenue to segue into acknowledged experts of specific cuisines, like Rick Bayless for Mexican. Metric conversions and yields for common ingredients are included.
—Booklist Online