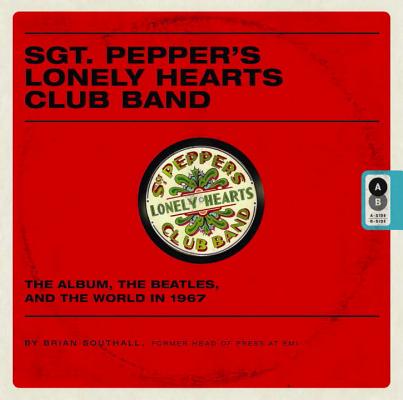 Sgt. Pepper's Lonely Hearts Club Band (Hardcover)
The Album, the Beatles, and the World in 1967
Imagine, 9781623545260, 192pp.
Publication Date: May 9, 2017
Other Editions of This Title:
Compact Disc (8/22/2017)
MP3 CD (8/22/2017)
* Individual store prices may vary.
Description
A carefully crafted and collectible volume celebrates the 50th anniversary of a legendary and groundbreaking Beatles album.  Expert Brian Southall's unique edition recounts the story behind the music and the cultural climate of 1967 when Sgt. Pepper's Lonely Heart Club Band debuted.

The "A-side" of this coolly curated title is all about the Beatles, the music on the album, the recording process, how the disc was received at the time and how it has been acknowledged as one of the greatest albums ever recorded. The "B-side" looks at the state of the world in 1967, from the Summer of Love to anti-war protests to the launch of  Rolling Stone magazine to Jimi Hendrix's first UK tour as a solo artist--and so much, much more.

Fascinating photographs and text build a complete picture of the world as it was when one of the most famous albums of all time was released.
About the Author
Brian Southall is the former Head of Press at EMI and has written about music for over 50 years. Previous publications include Northern Songs - the story of the Beatles' music publishing empire, Beatles Memorabilia: The Julian Lennon Collection, Jimi Hendrix: Made In England, The Rise and Fall of EMI Records, and Sex Pistols: 90 Days at EMI.
Praise For Sgt. Pepper's Lonely Hearts Club Band: The Album, the Beatles, and the World in 1967…
Fifty years after Sgt. Pepper taught the band to play, Southall (Northern Songs), former head of press at EMI, presents a tribute to this enduring album. Roughly the size and shape of an album cover, this book is divided into two parts (whimsically referredt to as the "A" and "B" sides). In the first section, Southall imparts solid if fairly unexciting material about the group and the production of the album. The second part zooms out for a look at the political, social, and pop cultural environment of 1967. The author's coverage of the larger music scene is intriguing--his exploration of innovative groups such as Frank Zappa and the Mothers of Invention offers context for where Sgt. Pepper fit in -- but his laborious, often dry month-by-month look at 1967 is somewhat exhausting. However, this isn't a little that most music lovers will read from cover to cover. Visually enticing, with tons of quotes and photos galore (many of which depeict the Fab Four in delightfully garish hippie garb), it's ripe for browsing. VERDICT: Not essential reading by any means, but a fun addition to larger music collections. Watch it fly off display shelves.
-- Library Journal