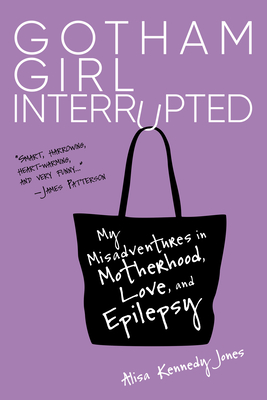 Gotham Girl Interrupted
My Misadventures in Motherhood, Love, and Epilepsy
Paperback

* Individual store prices may vary.
Other Editions of This Title:
Hardcover (11/6/2018)
Description
Nora Ephron and Allie Brosh fans take note: Alisa Jones' memoir Gotham Girl Interrupted is a smart stand-up comedy about the power of falling down.

"Get to your safe spaces, people. Here comes the shimmer..."

From irreverent NYC blogger Alisa Kennedy Jones comes an account of her "misadventures in motherhood, love, and epilepsy" that James Patterson calls "smart, harrowing, heart-warming, and very funny."

What do Da Vinci, Agatha Christie, and blogger Alisa Kennedy Jones have in common? If you said "timeless artistic genius", stop sucking up--the answer is ecstatic epilepsy. In this hilarious and moving dispatch from the frontlines of neurodiversity, Jones chronicles life with these terrifying-yet-beautiful grand mal seizures. Characteristic of Jones's condition are attacks which leave her with what Zen Buddhists sometimes refer to as a "beginner's mind": a vast, open expanse of headspace, coupled with a creative euphoria.

With bracing candor and humility, Jones describes living with chronic illness, single motherhood, and her day-to-day life as a hapless writer in NYC. Above all, Jones reminds us to fight the battle for becoming who we are supposed to be--no matter how much flopping around on the ground and wetting ourselves we have to do to get there.
Praise For Gotham Girl Interrupted: My Misadventures in Motherhood, Love, and Epilepsy…
Through humor and horror, a blogger, copywriter, and screenwriter pulls back the curtain on the uncertain world of an epileptic.Imagine having a seizure in a bodega and waking up to find the impact of your fall has destroyed your face, with a dislocated jaw and countless facial fractures and lacerations. That's what happened to Jones a few years after being diagnosed with epilepsy. Using her wit as a coping mechanism, the author describes her plight, from the surprising diagnosis to overcoming multiple surgeries to reclaim movement in her face after her dramatic fall. It's a shocking story that not only explains the still-perplexing experience of the disorder but also paints a picture of how those living with the condition struggle to create for themselves a new normal. "Not only was my language off," writes Jones, "so too was my execution and sequencing. I was continually getting things wrong like thinking of an object that is a spoon and going over to get one in the totally wrong part of the kitchen." The author doesn't sugarcoat the heartbreak of her struggles, but at the same time, she's persistently sarcastic through it all, even when her jaw had to be wired shut. "Good god, what was that smell? Everywhere around me now was the odor of briny, salty seawater, but with something extra….it was me!" she writes describing her lockjaw-induced halitosis. "It smelled like I'd licked the subway and then let it fester in the New York City heat amid some raw sewage." If there's one drawback to Jones' knack for description, it's her unwillingness to "murder her darlings." The playful turns of phrase are enjoyable until she loses the plot, such as when the story shifts from Los Angeles to New York City. Fortunately, the story doesn't hinge on location. Like a candid conversation with an amusing friend, this is a surprisingly funny look at a clinically humorless disorder.
—Kirkus Reviews
Imagine, 9781623545284, 224pp.
Publication Date: November 6, 2018
About the Author
Alisa Kennedy Jones is a writer for TV and theater, with credits including A Girl and a Gun, Ulutwatu and Gifted. She also has a background working in digital advertising, branding and strategy for clients such as GE, Coca-Cola, Tommy Hilfiger, Disney, Electronic Arts and Colgate-Palmolive. She writes the blog Gotham Girl (currently almost 30,000 followers on Twitter) and is an NPR commentator who is active in the autism, human rights, and neurodiversity communities. She lives in New York City.
or
Not Currently Available for Direct Purchase