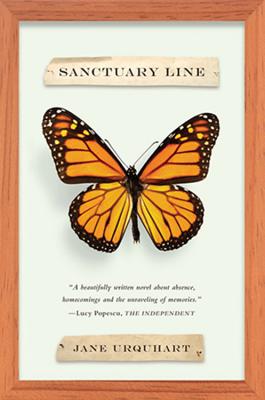 Sanctuary Line (Hardcover)
Maclehose Press Quercus, 9781623650162, 240pp.
Publication Date: September 3, 2013
* Individual store prices may vary.
or
Not Currently Available for Direct Purchase
Description
Alice Munro hails Urquhart's "most compelling depiction of the sense of place in human lives." "Urquhart's writing is poetic, in the sense that it is beautifully compact and restrained when describing the most powerful emotions," says The Times. The author Claire Messud praises her as having "a great gift for the historical novel, for the melding of ideas, events and individuals into a significant whole."
In Sanctuary Line Urquhart has created a nuanced and moving novel about family legacies, love, and betrayal. Solitary, nostalgic Liz Crane returns to her family's now-deserted farmhouse--once the setting for countless happy summers spent on the northern shore of Lake Erie--to study the migratory habits of the Monarch butterfly. Encompassing all the colorful stories and blarney of successful Irish immigrants who have made the most of their relocation to North America, the Cranes' rich family history is now circumscribed by sadness. Liz's beloved cousin Amanda, a gifted military strategist, has been killed in Afghanistan, a loss that had been foreshadowed many years in the past by the disappearance of Amanda's charismatic father.
Reflecting on the fragility and transience of human life and relations--mirrored in the butterflies' restless flight patterns and transcontinental migrations--Liz finds that love is there to be found where, and when, you least expect it.
About the Author
Jane Urquart was born in Little Long Lac, Ontario, and grew up in Toronto. She is the author of five internationally acclaimed novels: The Whirlpool, which received Le prix du meilleur livre etranger (Best Foreign Book Award) in France; Changing Heaven; Away, winner of the Trillium Award and a finalist for the prestigious International IMPAC Dublin Literary Award; The Underpainter, winner of the Governor General's Award and a finalist for the Rogers Communications Writers' Trust Fiction Prize; The Stone Carvers, which was a finalist for The Giller Prize and the Governor General's Award, and longlisted for the Booker Prize; and A Map of Glass, a finalist for a regional Commonwealth Writers' Prize for Best Book. She is also the author of a collection of short fiction, Storm Glass, and four books of poetry, I Am Walking in the Garden of His Imaginary Palace, False Shuffles, The Little Flowers of Madame de Montespan, and Some Other Garden. Urquhart has received the Marian Engel Award, and is a Chevalier dans l'Ordre des Arts et des Lettres in France and an Officer of the Order of Canada. She lives in Ontario and spends part of every year in Ireland.
Praise For Sanctuary Line…
Praise for Jane Urquhart:

"The most compelling depiction of the sense of place in human lives."—Alice Munro

"Urquhart has a great gift for the historical novel, for the melding of ideas, events and individuals into a significant whole." —Claire Messud

Praise for Sanctuary Line:

"Captures very deftly the sense of a disappearing world, created with such personal sacrifice by the first settlers . . . Urquhart handles the layers of narrative with lyrical aplomb." —Susan Elderkin,The Financial Times

"A lovely reverie from its first sentence." —More magazine
 
"The payoff in Sanctuary Line is . . . spectacular—a multiple detonation that reverberates back to many earlier events and phrases." —David Grylls, Sunday Times

"Urquhart tells many smaller stories with quiet, understated writing, using the contemplative Liz as a narrator enough of an insider to know all the details, but enough of an outsider to see through to the truth, and now, grown up enough to give some perspective . . . what she shares is worth examining." —Lisa McLendon, The Wichita Eagle

"Urquhart's writing is poetic, in the sense that it is beautifully compact and restrained when describing the most powerful emotions." —Kate Saunders, The Times

"Sanctuary Line is delicately balanced, powerful and purposeful, and is Urquhart at her best, a storyteller and stylist of the first rank." —Gary Curtis, Hamilton Spectator
 
"Urquhart's style is reminiscent of that of the Pulitzer-winner Marilynne Robinson . . .The real delight in Urquhart's story is the language she uses to weave it. She's a poet, even when she's writing novels." —Mary Morrissy, Irish Times
 
"Haunting . . . and the ending, when it comes, is well worth the wait, revealing the answers to mysteries we didn't even know existed." —Donna Bailey Nurse, The Globe and Mail
 
"Urquhart builds up a picture of a vanished idyll . . . Urquhart's prose brims with . . . emotional sensitivity." —Susanna Rustin, The Guardian
 
"Powerful . . . Urquhart knows love and longing, knows life and its many permutations. She has given us a multifaceted novel bursting with all of that." —James MacGowan, The Ottawa Citizen
 
"Urquhart builds stories like an architect . . . the brilliance of [the] powerful ending is that it makes us want to start again from the beginning." —Emily Donaldson, Toronto Star

"Measured, dignified, calm on the surface but containing as much thematic richness and plain literary pleasure as a reader could care to dig for."—Montreal Gazette
 
"I'm grateful to have spent time with Sanctuary Line and soaked up Urquhart's nuanced wisdom."—Vancouver Sun

"In precise yet passionate prose, acclaimed Canadian writer Urquhart poignantly explores the ephemeral and transitory nature of love and family duty, offering a melancholy meditation on these gossamer but powerful ties." —Carol Haggas, Booklist
 
"[A] finely tuned read."—Kirkus Reviews

"Quietly moving . . . Another stately, thoughtful work from award-winning Canadian author Urquhart." —Barbara Hoffert, Library Journal

"A novel of the mind and heart. . . intriguing reading." —Bookviews.com

"Readers will want to return to this novel several times, drawn into the story by the age-old question of why humans do what they do. The Canadian Urquhart is a writer of international stature."—Alibi.com
Advertisement