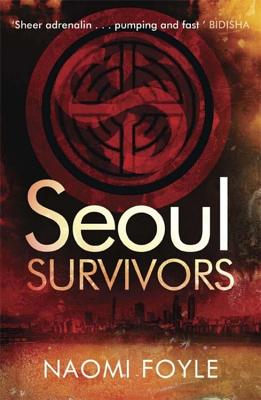 Seoul Survivors (Paperback)
Jo Fletcher Books, 9781623650186, 320pp.
Publication Date: August 2, 2016
* Individual store prices may vary.
Description
In Seoul Survivors, praised for its "impeccable plotting" by The Guardian, global warming has wreaked havoc on the planet. There is only one safe place to be: in the mountains above Seoul, glamorous Korean-American bioengineer Dr. Kim Da Mi is convinced she has found the perfect solution to save the human race. But her methods are strange and her business partner, Johnny Sandman, is a, unsavory character with many secrets.

When impetuous aspiring model Sydney flies to Seoul at the behest of her boyfriend, Johnny Sandman, and meets Dr. Kim Da Mi, she doesn't know that the scientist is engaged in a secret power struggle with Johnny that will threaten her own life.

Seduced by the visionary scientist, Sydney begins helping Kim Da Mi create a new breed of human beings to staff a revolutionary theme park: VirtuWorld. As the Winter Solstice looms, the Internet is rife with rumors that a devastating meteor called Lucifer's Hammer is heading straight toward Earth. VirtuWorld would be a haven from eco-apocalypse, but its success demands a sacrifice--just whose blood will spill is far from certain until the final pages of this tense cyber-thriller.
About the Author
Naomi Foyle was born in London and grew up in Hong Kong, Liverpool, and Canada; currently, she lives in Brighton. She spent three years in Korea teaching English, writing travel journalism, and acting in Korean educational television. She is a highly regarded poet and performer. Seoul Survivors is her first novel.
Praise For Seoul Survivors…
"Naomi Foyle is well placed to bring the little-known complexities of Korea's contemporary cultural scene to the foreground of her imaginative leap into our future."—Mia Yun, author of House of the Winds

"confident, fervent, erotic, lyrical, distinctive. Her writing is bold and unflinching, imaginative... thrilling and disconcertingly edgy."—PBS Bulletin

"A novel that manages to transcend the boundaries of sci-fi, noir, erotica and horror - often to dizzying, vertiginous, terrifyingly transgressive effect - while remaining faithful to both its cyberpunk roots and alt-cult literary heritage' . . . Seoul Survivors is one of the best books I've read EVER!"—Rue Morgue

"I enjoyed the action even while I despised some of the characters. That is the sign of a good story."—SFRevu
or
Not Currently Available for Direct Purchase