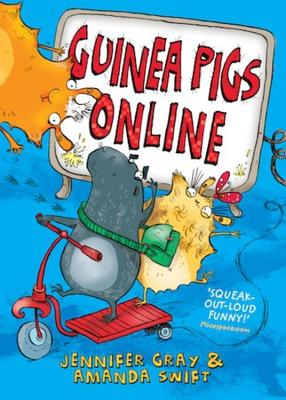 Guinea Pigs Online (Hardcover)
Quercus, 9781623650377, 194pp.
Publication Date: November 12, 2013
Other Editions of This Title:
Paperback (6/2/2015)
* Individual store prices may vary.
Description

In this hilarious adventure for elementary school readers, a team of lovable, fuzzy guinea pigs gets online to solve their mysteries.

Fuzzy the guinea pig is a great friend to have--he's always cheerful, he cooks like a pro (his specialty is ketchup and dish soap), and he loves to surf the web. Fuzzy's stylish hutch-mate Coco is his best friend, though even she can't understand his fascination with computers.

When Fuzzy goes missing, though, Coco is forced to get online for answers. On the social site Micespace she learns that her friend could be in terrible danger, so Coco assembles an extraction team to get him back: Terry, a technology whiz whose computer skills are second to none; Banoffee, a mother of fourteen with the organizational and motivational powers to match; and Eduardo, the heroic (and very handsome) Peruvian freedom fighter. Will Coco and her guinea pig commandos find a way to rescue Fuzzy and get back home alive?
About the Author
Jennifer Gray has been writing children's comedy for years and her work has received many accolades. Writing is Jennifer's passion (along with chocolate cake) and her ambition is to win the Roald Dahl Funny Prize one day.

Amanda Swift has written books for several well-established children's series, including My Parents are Aliens, and has dramatized several books for the radio. She has also written three novels for middle-grade readers: The Boys' Club, Big Bones, and Anna/Bella.
or
Not Currently Available for Direct Purchase