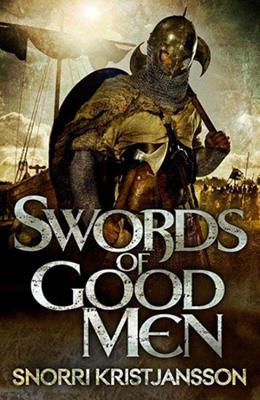 Swords of Good Men (The Valhalla Saga #1)
Hardcover

* Individual store prices may vary.
Other Editions of This Title:
Paperback (1/6/2015)
Description
Swords of Good Men--the first volume Snorri Kristjansson's Vhlhalla Saga--in is a raucous and gripping fantasy adventure set in Viking Norway, where plundering and pillaging are a way of life and creature comforts rarely exceed a mug of sour mead.
To weary Viking Ulfar Thormodsson, the town of Stenvik is the penultimate stop on what has been a long and perilous journey. It has been particularly challenging for Thormodsson, who has been charged with protecting the life of his high-born cousin. Having travelled the world for two years, all he wants is to go home--but Stenvik awaits.
After coming ashore, Thormodsson meets the beautiful and tragic Lilja, who immediately captures his heart. Stenvik is also home to solitary blacksmith Audun Arngrimsson, whose past hides many dark secrets. Soon, the conflict brewing between two factions of dangerous and determined men of the town threatens to sweep all of them, natives and visitors alike, into the jaws of war.
As the Vikings learn, King Olav is marching on Stenvik from the east, determined to bring the White Christ to the masses at the point of his sword - even as a host of bloodthirsty raiders led by a mysterious woman sails from the north. Thormodsson and his companions will soon learn that in this conflict between the Old Gods and the new, there are enemies everywhere - outside the walls of Stenvik as well as within.
Swords of Good Men features a memorable cast of original characters and is driven by non-stop action and a clever sense of humor. Kristjansson deftly and elegantly weaves Norse mythology and history with fantasy in a novel that offers not only a good dose of bloody Viking feuding, but intrigue and romance.
Praise For Swords of Good Men (The Valhalla Saga #1)…
"Vikings, man. You can't take them anywhere without someone's throat getting slit. Pit a Viking army against a Viking village as Snorri Kristjansson does in his first novel, Swords of Good Men, and there's going to be some serious ass kicking going on. Swords is grisly fun."
—
Tor.com
"I'm impressed!... Overall, Swords of Good Men is an excellent foray into historical Scandinavian fiction... and I highly recommend it to anyone interested in Vikings, ancient battles, or religious conflicts. I definitely will look forward to later installments in The Valhalla Saga to continue the story."—
Fanboy Comics
"[It] promises to be a powerful epic fantasy series.... Kristjansson takes the reader along at a breakneck speed, and it doesn't let up until the final very end. And the ending, though satisfying, leaves the door open for yet more mayhem. I gladly recommend this book."—
Historical Novel Society
"Swords of Good Men will be a book to watch if that's your genre of choice, as will the series."—
Novelnaut.com
"an almost unforgettable Viking saga set in a world that is more real, textured and layered than expected, peppered with characters that will make you laugh, and feel strongly. Swords of Good Men is a solid start to a dynamic series and proves that Kristjansson is a force in the genre to be reckoned with."—
Bookworm Blues
Jo Fletcher Books, 9781623650742, 304pp.
Publication Date: January 7, 2014
About the Author
Snorri Kristjansson is an Icelander, a writer and a teacher, with a background in acting, music and stand-up comedy. He lives in South London with his fiance. Swords of Good Men is his first novel.
or
Not Currently Available for Direct Purchase