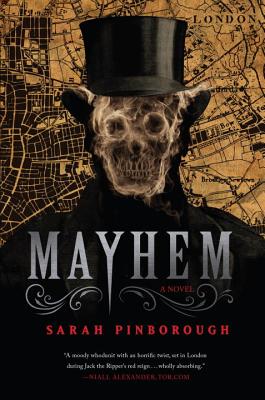 Mayhem (A Dr. Bond Victorian Forensics mystery #1)
Hardcover

* Individual store prices may vary.
Other Editions of This Title:
Paperback (1/6/2015)
Description
"a new supernatural-whodunit-polyphonic thriller for those not of the faint of heart" --Fort Worth Telegram
"Pinborough's fiction moves at a breakneck pace. Once you start, you can't stop." --Sarah Langan, author of The Keeper and The Missing
Already frustrated in their attempts to capture serial murderer Jack the Ripper, the detectives of Scotland Yard are suddenly confronted with a new monster, dubbed the Torso Killer for his habit of leaving behind neatly wrapped parcels of his victims' body parts, minus the heads.
With the terrible increase in mutilated corpses to examine, the highly regarded police surgeon Dr. Thomas Bond has lost the ability to sleep. True, a growing dependency on opium affords him some solace in his loneliest and most desperate hours, but he also fears the grip of the drug.

During Dr. Bond's nightly tours of London's underbelly in search of pharmaceutical respite from the horrors that plague him by day, he encounters a mysterious Jesuit priest scouring the opium dens himself, clearly in search of someone--or something. The doctor at first rejects the strange priest's unnatural theories about the Torso Killer as an affront to scientific thought. But over time Dr. Bond's opium-addled mind begins to crumble under the growing impression that there might be some awful truth to the Jesuit's ideas.

As the police struggle to capture two serial killers, the troubled forensics expert begins to suspect that he may actually know the Torso Killer personally. If he is right, Dr. Bond will need all the strength he can muster to save his small circle of loved ones from falling victim to the bloody depravities of this twisted creature.


Praise For Mayhem (A Dr. Bond Victorian Forensics mystery #1)…
"Few writers blend mystery and the supernatural as well as Sarah Pinborough, but there are none who do it better. Quite, quite brilliant."—John Connolly, best-selling author of the Charlie Parker series

"If you enjoy a true crime-novel combo, don't pass on the newest work from British-born author Sarah Pinborough, who takes a cue from Dean Koontz in composing a new supernatural-whodunit-polyphonic thriller for those not of the faint of heart."—John Henry, Ft. Worth Star-Telegram

"In this chilling exploration of madness and evil, Pinborough excels at summoning up the bleak spirit of Victorian London's mean streets and those forced to fight for survival there."—Publisher's Weekly (starred review)

"Masterfully... Mayhem is a beautifully rendered exploration of madness in all its forms. The author takes sleight of hand to new heights. She makes the mean streets of Victorian London all too real. It's a demanding, moody horror story with a shocking twist."—Irma Heldman, Open Letters Monthly

"Sarah Pinborough deftly trawls through the muck of Victorian London in Mayhem, a graphic tale about a series of murders contemporaneous to Jack the Ripper's crimes... English horror and fantasy writer Sarah Pinborough breaks new ground in "Mayhem," her 12th novel, by exploring several murders that occurred contemporaneously with the Ripper crimes... Although the news stories and a letter signed by Jack the Ripper, interspersed throughout the novel, lend authenticity to and place the murders in context, Mayhem's greater achievement is in its deft portrayal of the divergent social classes in Victorian London that gave rise to the Thames Torso Killer and the men who hunted him."—Paula L. Woods, The Los Angeles Times

"Mayhem is a terrific piece of sustained writing, taking the tired streets of fictional Victorian London and reinvigorating them through the introduction of an ancient enemy. It's well worth reading whether as historical true crime fiction or as a supernatural thriller."—David Marshall, Thinking About Books

"Pinborough's fiction moves at a breakneck pace. Once you start, you can't stop."—Sarah Langan, author of The Keeper and The Missing

"She rides the line between gritty realism and otherworldly weirdness without ever toppling over."—SFX

"a taut late Victorian crime thriller with a stunning Eastern European spin. The inclusion of world-wide nespaper coverage of the first known serial killers adds fascinating macabre shock and depth; mindful of the Son of Sam coverage. Readers will relish this tense twisting historical whodunit."—Harriet Klausner, Midwest Book Review

"Mayhem is a disturbingly engrossing Victorian horror with a standout, menacing villain. Never have I known a smile to be so sinister and rancid, but Pinborough's prose prove the gesture to be something terrifyingly palpable. This genre-defying novel is a ravenous read and will have you as insatiable as the malicious mischief-maker that awaits you in its pages."—BookPage
Jo Fletcher Books, 9781623650865, 320pp.
Publication Date: January 14, 2014
About the Author
Sarah Pinborough is a critically acclaimed horror, thriller and young adult author. Her short stories have appeared in several anthologies. Her novel The Hidden is currently in development as the movie Cracked, and she has another original screenplay under option. She has written for New Tricks on the BBC and has a three-part TV series in development with World Productions. She was the 2009 winner of the British Fantasy Award for Best Short Story, and has been short-listed three times for Best Novel. Her novella The Language of Dying was short-listed for the Shirley Jackson Award, and won the 2010 British Fantasy Award for Best Novella. Her latest book is Behind Her Eyes.

or
Not Currently Available for Direct Purchase