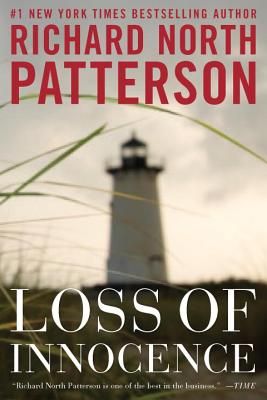 Loss of Innocence (Paperback)
Quercus, 9781623651237, 352pp.
Publication Date: June 3, 2014
Other Editions of This Title:
Digital Audiobook (9/30/2013)
Hardcover (10/1/2013)
Compact Disc (10/1/2013)
Hardcover, Large Print (11/1/2013)
MP3 CD (10/1/2013)
Compact Disc (10/1/2013)
* Individual store prices may vary.
Description
Number one New York Times best-selling author Richard North Patterson, author of more than twenty novels, including Degree of Guilt and Silent Witness, returns with a sweeping family drama of dark secrets and individual awakenings.

Loss of Innocence, the second book in the Blaine trilogy, "in one life of the 1960s, symbolizes a movement that keeps changing all our lives" (Gloria Steinem) in "a richly-layered look at the loss of innocence not only among his characters but that which America lost as a nation." (Martha's Vineyard Times) "An extraordinary novel--profound, emotionally involving and totally addictive," said actor and author Stephen Fry, "this may be Richard North Patterson's best work."

In 1968 America is in turmoil, engulfed in civil unrest and in the midst of an unpopular war. Yet for Whitney Dane--spending the summer of her twenty-first year on Martha's Vineyard, planning a September wedding to her handsome and equally privileged fiance--life could not be safer, nor the future more certain.

Educated at Wheaton, soon to be married, and the youngest daughter of the patrician Dane family, Whitney has everything she has ever wanted, and is everything her doting father, Wall Street titan Charles Dane, wants her to be: smart, sensible, predictable. Nonetheless, Whitney's nascent disquiet about society and her potential role in it is powerfully stimulated by the forces transforming the nation.

The Vineyard's still waters are disturbed by the appearance of Benjamin Blaine, an underprivileged, yet fiercely ambitious and charismatic figure who worked as an aide to the recently slain Bobby Kennedy. Ben's presence accelerates Whitney's growing intellectual independence, inspires her to question long-held truths about her family, and stirs her sexual curiosity. It also brings deep-rooted tensions within the Dane clan to a dangerous head. Soon, Whitney's future seems far less secure, and her ideal family far more human, than she ever could have suspected.

An acknowledged master of the courtroom thriller, Patterson's Blaine trilogy, a bold and surprising departure from his past novels, is a complex family drama pulsing with the tumult of the time and "dripping with summer diversions, youthful passion and ideals, class tensions, and familial disruptions." (Library Journal)

From the Hardcover edition.
About the Author
Richard North Patterson is the author of twenty bestselling novels, including Garden of Eden, Exile, Degree of Guilt, and Silent Witness. He has appeared on Good Morning America, Hardball, and The CBS Morning Show, and his articles on politics, literature, and law have been published inThe London Times, Wall Street Journal, USA Today, Washington Post, Los Angeles Times, Boston Globe, San Francisco Chronicle, and San Jose Mercury News. He lives in Martha's Vineyard, Cabo San Lucas, and San Francisco with his wife, Dr. Nancy Clair.

From the Hardcover edition.
Praise For Loss of Innocence…
"Wealthy, WASPY and protected, Whitney Dane lives a life of privilege under the seemingly benevolent patriarchy of her powerful father. At the family summer home on Martha's Vineyard, political violence and anti-war protests seem far away. But in the course of the season, cracks open in her closest relationships, exposing rot and darkness within and linking Whitney to the larger issues of race, class and corruption that roil the country. Richard North Patterson has created a richly textured romance, deftly set amid the seismic social shifts of 1968."—Geraldine Brooks, author of Caleb's Crossing

"A snapshot of America at a pivotal moment in history, and a beautifully written coming-of-age novel."—Lady Antonia Fraser, author of The Six Wives of Henry VIII and Must You Go?

"Set in the summer and fall of a pivotal year in American history, 1968... Patterson's latest offers up an appealing family drama set against the backdrop of a radically tumultuous and influential time."—Kristine Huntley, Booklist

"Patterson's family drama thrives on the expected... Patterson writes a family saga of class and money, power and pretense, love and loyalty. Think The Thorn Birds or Rich Man, Poor Man among the Martha's Vineyard moneyed set."—. . .

"Like male novelists of the Nineteenth century, Richard North Patterson actually looks at the world through a woman's eyes. He tells us the story of a girl born into a derived identity, and her path toward who she is and what she wants. In one life of the 1960s, he symbolizes a movement that keeps changing all our lives."—Gloria Steinem, author of Revolution from Within

"At a time when the â??60s are often vilified, Richard North Patterson revisits that era in this terrific new novel and reminds us that it was a time of moral awakening. Set in 1968, Loss of Innocence tells the story of a young woman's discovery of the true meaning of freedom. Moving into new territory with this coming-of-age novel, Patterson is a great storyteller."—Carol Gilligan, author of Kyra and In Other Voices

"A title that is dripping with summer diversions, youthful passion and ideals, class tensions, and familial disruptions makes for wonderful reading whatever the season."—Library Journal (starred)

"Loss of Innocence will tell you more about the turbulent summer of 1968 than most history books will."—Providence Journal

"Loss of Innocence, second of a projected trilogy, is the compelling account of a family's collapse amid multiple betrayals in the bloody year 1968. The book moves at high velocity, is grandly plotted with a crescendo of an ending. This is Richard North Patterson at the top of his game."—Ward Just, author of An Unfinished Season and Rodin's Debutante

"Loss of Innocence is an extraordinary novel--profound, emotionally involving and totally addictive. This may be Richard North Patterson's best work: surprising and different, yet with the same ability to penetrate the minds of others--especially women, which is a rare gift."—Stephen Fry, The Fry Chronicles

"Loss of Innocence is a stunning tour de force by one of my favorite novelists. This coming-of-age story electrifies with the authenticity of the Sixties--the sex, politics, language, mores and music. And Martha's Vineyard, with its heartbreaking beauty, is the ideal setting for an engrossing drama of a so-called perfect family riven by its secrets. Richard North Patterson, always brilliant, is better than ever."—Linda Fairstein, author of The Deadhouse
or
Not Currently Available for Direct Purchase