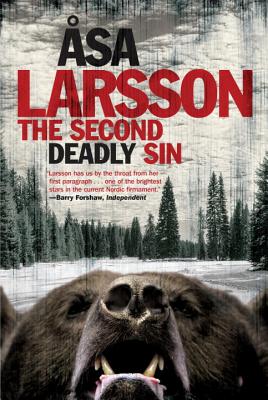 The Second Deadly Sin (Hardcover)
MacLehose Press, 9781623651398, 352pp.
Publication Date: August 12, 2014
Other Editions of This Title:
Paperback (6/2/2015)
* Individual store prices may vary.
Description
Asa Larsson 's Rebecka Martinsson series was included on a list of Top Mysteries Every Woman Should Read by Oprah Winfrey, who called Rebecka Martinsson a "brilliant, believable" female detective. Now in
The Second Deadly Sin
Rebecka Martinsson's courage to the test once more in her most twisted and unpredictable case yet.
After successfully tracking down and killing a rogue bear in the wilderness of northern Sweden, a group of hunters is shaken by a grisly discovery when they dress the bear carcass: human remains in the stomach. Far away in the remote village of Kurravaara, an elderly woman is found murdered with frenzied brutality, crude abuse scrawled above her bloodied bed. Her young grandson, known to live with her, is nowhere to be found.
Only Kiruna prosecutor Rebecka Martinsson sees a connection between the two events, but thanks to the machinations of a jealous rival, she is dropped from the case. Continuing to pursue answers in an unofficial capacity, and with the reluctant assistance of her friend and police inspector Anna-Maria Mella, Rebecka stands alone against a ruthless killer. At the root of it all is a horrifying, century-old crime, the tendrils of which continue to hold the small community in their grip.
About the Author
Asa Larsson
was born in Kiruna, Sweden. Before becoming a full-time writer she worked as a tax lawyer. Her novel
The Savage Altar
was awarded the Swedish Crime Writers' Association prize for best debut.
The Blood Spilt
was chosen as the Best Swedish Crime Novel of 2004.
Until Thy Wrath Be Past
was a finalist for the 2012 CWA International Dagger Award.
Laurie Thompson is the distinguished translator of novels by Henning Mankell and Hakan Nesser. He was editor of Swedish Book Review until 2002.
Praise For The Second Deadly Sin…
"Spanning a century, the plot is labyrinthine and suspenseful. Larsson's characters and their worlds are closely observed, revealing small-town small-mindedness in contemporary Sweden and the elemental struggle for survival a century before, when children might be sold into servitude at a "pauper's auction." Larsson has given her fans another winner (Until Thy Wrath Be Past, 2011)."—Booklist

"Compelling . . . Larsson excels at creating engaging, complex characters whose interactions and development provide as much forward momentum as the search for the killer."—Publishers Weekly

"With a more literary approach to the genre... Larsson remains one of the brightest stars in the current Nordic firmament... perceptive touches quicken the narrative throughout, and the characterization of the bloody-minded Rebecka (who Larsson really puts through the mill here) keeps The Second Deadly Sin firmly grounded."—Barry Forshaw, The Independent

"A must read series for me and the novel's ending hints at new directions for Rebecka which should shake up future books a little."—Louise Welsh, Crimepieces

"shows that Larsson is yet another powerful Nordic storyteller"—Minneapolis Star Tribune

"Åsa Larsson's books have a strong feeling of female empowerment, and not just through the strong female leads of Rebecka and Anna-Marie. This book manages to cleverly pass comment on how arrogance, pompousness and at times, weakness in a subset of men can lead to undesirable outcomes (though I should say that most men in the story are depicted in a much more favourable light!). It also shows how strong ties and co-operation between women are important in finding solutions. Rebecka's vulnerability and sense of past, combined with her strong-mindedness determination, thoughtfulness, and ever-developing character is something the reader can empathise and engage with. An interesting plot, combined with intriguing characters, means that all I want now is to read the next outing in the series! And, as always, there is a great translation from Laurie Thompson."—EuroCrime

"I'm a big Åsa Larsson fan: the first two books in the series are some of my favorites. Rebecka is not a typical heroine, her cases are tough on her, and the setting in extreme northern Sweden is vivid."—Ms. Wordopolis

"engrossing . . . The story is unique, well-written and keeps you guessing on who the murderer(s) is. I would definitely recommend this."—BooksGalore

"Fascinating . . . The reader's attention is held hostage from the onset with action and suspense."—Terrific Reads

"I must go back to the beginning and read this series."—Books Movies Reviews Oh My

"The author has in previous novels proven herself masterful and this is no exception . . . having finished this author's "Until Thy Wrath Be Past," this equally intriguing tale was another treat, and is also recommended."—Gloria Feit, Midwest Book Review
or
Not Currently Available for Direct Purchase