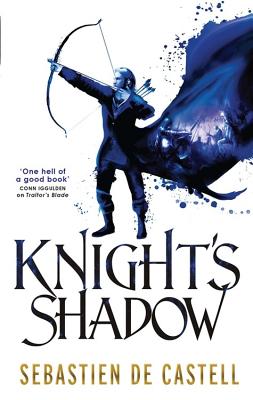 Knight's Shadow (Hardcover)
Jo Fletcher, 9781623653989, 400pp.
Publication Date: June 2, 2015
* Individual store prices may vary.
Description
Following his beloved debut, Traitor's Blade, Sebastien de Castell returns with volume two of his fast-paced fantasy adventure series, inspired by the swashbuckling action and witty banter of The Three Musketeers. Knight's Shadow continues the series with a thrilling and dark tale of heroism and betrayal in a country crushed under the weight of its rulers' corruption.
A few days after the horrifying murder of a duke and his family, Falcio val Mond, swordsman and First Cantor of the Greatcoats, begins a deadly pursuit to capture the killer. But Falcio soon discovers his own life is in mortal danger from a poison administered as a final act of revenge by one of his deadliest enemies. As chaos and civil war begin to overtake the country, Falcio has precious little time left to stop those determined to destroy his homeland.
About the Author
Sebastien de Castell had just finished a degree in archaeology when he started work on his first job. Four hours later he realized how much he hated archaeology and left to pursue a very focused career as a musician, ombudsman, interaction designer, fight choreographer, teacher, project manager, actor, and product strategist. These interests and experiences provided fodder for his burgeoning writing career. He lives in Vancouver, Canada, with his wife and is director of strategic program development at the Vancouver Film School.