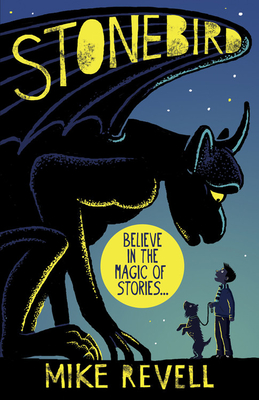 Stonebird
Hardcover

* Individual store prices may vary.
Other Editions of This Title:
Paperback (6/7/2016)
Description
When 10-year-old Liam's family moves to be near his grandmother who is suffering from dementia, he's left to navigate his new neighborhood, school and grandmother's illness all by himself; His mom regularly looses herself in a bottle of wine, and his sister sneaks out to who knows where shortly after "wine o'clock"-as they've come to call it-strikes. Life it isn't easy.
The one place he seems to find solace is a rundown church where he finds an over-sized gargoyle that keeps drawing him in. After learning that they were created to protect people from demons and evil spirits, he can't seem to shake the image of the old stone bird and its presence weaves itself into the stories Liam tells himself and others, so much so that Liam starts to believe that it might be alive.
Shy Liam's only means of confidence during shared story time is to tell tales of the gargoyle. His classmate mock him at first but are soon are captivated by his storytelling, and his teacher's slight nods of encouragement fuel Liam's belief in the bird and lead him to think that she knows a thing or two about the old bird herself.
As his home life gets harder and the bullies more relentless the gargoyle seemingly brings Liam's stories to life-swooping in to protect and defend him in the most unexpected ways. But is the old stone bird really alive, or is it just Liam's imagination finding ways to help him through a difficult time?

Quercus Books, 9781623654627, 288pp.
Publication Date: June 2, 2015
About the Author
Mike Revell used to be one of those kids who didn't like reading. He was more inclined to run home and play video games than dive into a book. But the boy wizard changed that for him, not only did Harry Potter make him a reader, it made him want to be an author too; he wanted to give to people the same feelings of wonder and enjoyment that J.K. Rowling gave to him as a young boy. Stonebird is Mike's first novel and is influenced by the real experiences of seeing his grandmother suffer from dementia, as well as his love of myths. He currently lives near Cambridge where he is a sports journalist. To learn more about Mike visit him at: http: //www.mikerevell.com
or
Not Currently Available for Direct Purchase