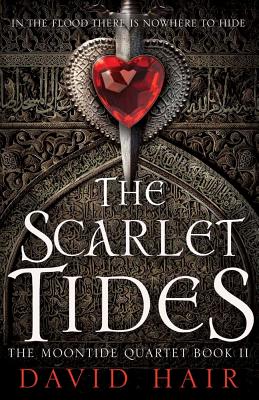 Scarlet Tides (The Moontide Quartet #2)
Mass Market

* Individual store prices may vary.
Other Editions of This Title:
Compact Disc (11/3/2015)
MP3 CD (10/7/2014)
Description
Return to Urte, a land in chaos, where the smallest choice may save or damn the world.The Moontide has come, and a scarlet tide of Rondian legions is flooding into the East, slaughtering and pillaging in the name of Emperor Constant. But the Scytale of Corineus, the source of ultimate magical power, has slipped through the emperor's fingers. His ruthless inquisitors are desperately seeking the artefact, before it falls into the hands of those who would bring him down. But there are some who have pledged to end the cycle of war and restore peace to Urte. They are the unlikeliest of heroes: a failed mage, a gypsy and a lowly market-girl. As East and West clash more violently than ever before, the people of Urte will discover that love, loyalty and truth can be forged into weapons as deadly as swords and magic.
Praise For Scarlet Tides (The Moontide Quartet #2)…
"Scarlet Tides is simply faster, better and even more satisfying that its prequel. So long for the difficult second book--Hair seems to handle these with ease and I'm already looking forward to the third one even though it's so far away."
—
Liviu Suciu
,
Fantasy Book Critic
"A mashup of J.R.R. Tolkien and Henry Kissinger... Hair capably spins a rather elaborate storyline, or better multiple storylines, all suitably tangled, given the conspiracies and mind-scramblings that are afoot... the reader will want to keep plenty of gnostic energy on hand...fans of the series will be eager to see what comes next."—
Kirkus Reviews
"David Hair's
Scarlet Tides
, the second novel in his
Moontide Quartet
series, has been compared to great fantasy epics such as
A Song of Ice and Fire
and
The Wheel of Time
, and it easily earns it place amongst them...
Scarlet Tides
is an engaging, well-developed book."—
Fanboy Comics
"Along the way, the author introduces some very unusual fantasy elements and handles them well. One such is a magical construct, the
Leviathan Bridge
that is underwater most of the time....this engrossing story will continue in the third episode,
Unholy War
."—
Bookloons
"Hair's
Scarlet Tides
continues a fantastic epic fantasy series with a great cast, immersive world, and fascinating system of magic that builds to a stunning several-hundred page conclusion in the vein of Steven Erikson, where everything possible happens to everyone. He improved on everything that made
Mage's Blood
so good and added even more
oomph
to it. I cannot wait to start
Unholy War
."—
A Bitter Draft
"I love the depth of Hair's magic system, as well as the wide variety of his characters...We've got two more books left in David Hair's world, and I can't wait to see what he's got up his sleeves next."—
Geeksmash
"Hair takes his time with all these narrative arcs, allowing the characters lots of space within which to grow. Depth of character was a strong point in
Mage's Blood
and it is here as well. Many of the characters are realistically complex, few remain the same by the end of the novel, and many are thrown into situations that either reveal or create different facets of their personality."—
Fantasy Literature Reviews
"A heavy tome with lots of excellent story inside of it."—
Novelnaut
"One of the best epic fantasies for a long time... If you do not read any other fantasy book this year, ensure you read
Scarlet Tides.
"—
Opionator
Jo Fletcher Books, 9781623656386, 688pp.
Publication Date: November 3, 2015
About the Author
David Hair is the New Zealand-based author of three fantasy series. The Aotearoa Series is a young adult series published by HarperCollins in New Zealand. His first novel, The Bone Tiki, won Best First Book at the 2010 NZ Post Children's Book Awards. The series is built around the concept of two parallel New Zealands--the modern world, and another magical world peopled by legends, historical personages, and the ghosts of ordinary New Zealanders. There are six books in the series, which concluded in 2014 with Magic and Makutu. Hair has also written a four book YA series, The Return of Ravana, set in India and published by Penguin India. The series tells the story of a group of people whose lives are linked by one tragic past life, the consequences of which resonate in every subsequent life, with horrific results. Book One, Pyre of Queens, won the LIANZA award for Best YA Novel in 2012.
or
Not Currently Available for Direct Purchase