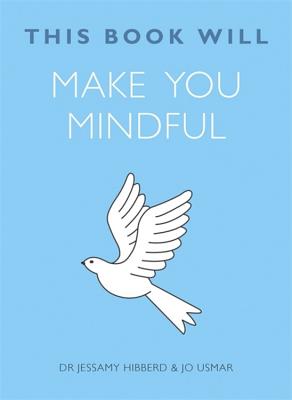 This Book Will Make You Mindful (Paperback)
Quercus, 9781623656751, 160pp.
Publication Date: January 5, 2016
Other Editions of This Title:
Paperback (6/13/2017)
Paperback (2/10/2015)
Paperback (2/10/2015)
Paperback (2/10/2015)
Paperback (2/10/2015)
Paperback (1/5/2016)
Compact Disc (4/5/2016)
* Individual store prices may vary.
Description
We live increasingly busy lives, and while some of us have no trouble juggling multiple responsibilities, others struggle to deal with the mounting pressures we feel from external sources, and, most importantly, from ourselves. It's not uncommon to feel buried under the weight of responsibilities and constantly feel like you're running out of time--with days, weeks, and years passing by in a blur. But don't let this discourage you--help is on its way.
This compact and accessible volume will arm you with techniques that can help you change your perspective and get the most out of every moment of your life. Dr Jessamy Hibberd and Jo Usmar use the latest mindfulness techniques to teach you how to stop worrying about the future or dwelling on the past and get the most of the life you're living right now. Understanding the way your brain works will help you learn how to cope with the negatives while fully appreciating the good things in life. The result? A happier, more confident, and more productive you!
About the Author
Dr. Jessamy Hibberd works as a contributing psychologist and is registered on the British Psychological Society's "media-friendly psychologist" list. She endeavors to make psychology easy to understand and accessible and has contributed to magazines and newspapers such as Glamour, Look, Fabulous, More, The Sun, The Daily Mail, The Sunday and Daily Express, Boots Health & Beauty, Be, and Pregnancy & Birth.
Jo Usmar is a freelance journalist who has worked for such magazines and newspapers as Cosmopolitan, Stylist, Look, Fabulous, Heat, The Mirror, and The Sun.
Praise For This Book Will Make You Mindful…
"Self help books can often be daunting, preachy or just downright dull, but in the right hands, they're brilliant...no cringey therapy-speak--just lots of clever strategies and practical tips. Plus, the books are short and snappy, so great to dip into for a quick fix."—Zest

"Take on January with newfound serenity with this series of self-help books."—Stylist

"Aims to give you the tools to understand why you feel, think and behave the way you do--and then to change it."—Female First

"There is so much in this that I highlighted that I could quote the entire book! I read a lot of self-help books . . . Some I walk away knowing I didn't take anything away but I didn't lose anything but time. In this one, however, I am keeping it on my Kindle and may wind up getting it in paperback just so I have it handy."—Creating Serenity, on This Book Will Make You Happy
or
Not Currently Available for Direct Purchase