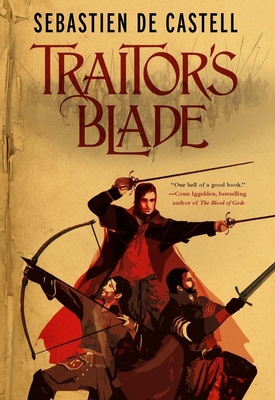 Traitor's Blade
Hardcover

* Individual store prices may vary.
Other Editions of This Title:
Paperback (6/2/2015)
Hardcover, Large Print (1/7/2015)
Paperback (6/2/2015)
Description
With swashbuckling action that recalls Dumas's Three Musketeers, Sebastien de Castell has created a dynamic new fantasy series. In Traitor's Blade, a disgraced swordsman struggles to redeem himself by protecting a young girl caught in the web of a royal conspiracy. The King is dead, the Greatcoats have been disbanded, and Falcio Val Mond and his fellow magistrates Kest and Brasti have been reduced to working as bodyguards for a nobleman who refuses to pay them. Things could be worse, of course. Their employer could be lying dead on the floor while they are forced to watch the killer plant evidence framing them for the murder. Oh wait, that's exactly what's happening. Now a royal conspiracy is about to unfold in the most corrupt city in the world. A carefully orchestrated series of murders that began with the overthrow of an idealistic young king will end with the death of an orphaned girl and the ruin of everything that Falcio, Kest, and Brasti have fought for. But if the trio want to foil the conspiracy, save the girl, and reunite the Greatcoats, they'll have to do it with nothing but the tattered coats on their backs and the swords in their hands, because these days every noble is a tyrant, every knight is a thug, and the only thing you can really trust is a traitor's blade.
Praise For Traitor's Blade…
"Some books you can't put down. This one won't even let you try; it whirls you along in a wild dance of fights, treachery, and jaw-dropping surprises." —Dave Duncan, author of King of Swords

"In Traitor's Blade, Sebastien de Castell combines the best of Joe Abercrombie and Alexandre Dumas. He can break your heart and spike your adrenaline with the same sentence. Riveting." — Violette Malan, author of Path of the Sun and The Storm Witch

"Traitor's Blade never falters, with writing as smooth and decisive as a rapier's swish through the air and a story as passionate as life itself. I can't wait to read more about these wonderful characters. Highly recommended!" — Julie E. Czerneda, author of A Turn of Light

"Traitor's Blade is the first 'new' fantasy of 2014 that met and even exceeded my expectations." —Fantasy Book Critic
 
"Traitor's Blade is just to put is simple: a terrific read. I enjoyed reading it very, very much. Sebastien de Castell directly places himself upfront to many of my favorite authors." —The Book Plank

"In short, I loved loved loved Traitor's Blade. I would recommend it to everyone . . . Seriously, this is one excellent and remarkably entertaining book! Read it." —BiblioSanctum
 
"Like a master-crafted rapier, Traitor's Blade is perfectly-balanced, sharp and to the point. Very highly recommended, this is a must read." —Civilian Reader

"If this isn't your most anticipated debut novel of 2014, then you're doing it wrong. Traitor's Blade may well end up going down as one of the strongest first fantasy novels of recent times—it's an absolute stunner that you can't afford to miss."—Bane of Kings, The Founding Fields
Jo Fletcher, 9781623658090, 372pp.
Publication Date: July 15, 2014
About the Author
Sebastien de Castell had just finished a degree in Archaeology when he started work on his first job. Four hours later he realized how much he hated archaeology and left to pursue a very focused career as a musician, ombudsman, interaction designer, fight choreographer, teacher, project manager, actor, and product strategist. These interests and experiences provided fodder for his burgeoning writing career. He lives in Vancouver, Canada, with his wife. He now lives in Vancouver, where he is director of strategic program development at the Vancouver Film School.
or
Not Currently Available for Direct Purchase