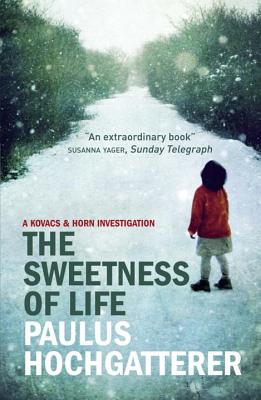 The Sweetness of Life
Hardcover

* Individual store prices may vary.
Other Editions of This Title:
Paperback (12/1/2015)
Description
A German bestseller, winner of the European Union Prize for Literature, and longlisted for the German Book Prize in 2006, Paulus Hochgatterer has created a chilling psychological thriller a group of damaged people living in a pleasant and seemingly tranquil Austrian village. It's the Christmas holiday, the presents have been opened, and a six-year-old girl is drinking cocoa and playing with her grandfather. The doorbell rings, and the old man gets up. The next time the girl sees her grandfather, he is lying by the barn, his skull broken; his face a red pulp against the white snow. From that time on, she does not speak a single word.

Along with Detective Superintendent Ludwig Kovacs, Raffael Horn, the psychiatrist engaged to treat the silent child, reluctantly becomes involved in solving the murder. Their parallel researches sweep through the town: a young mother who believes her new-born child is the devil; a Benedictine monk who uses his iPod to drown the voices in his head; a high-spending teenager who tortures cats. With his background as a child psychiatrist, Hochgatterer draws back the veil of normality and presents a disconcerting portrait of a winter-held town filled with unsavory inhabitants.
Praise For The Sweetness of Life…
"An extraordinary book, a disquieting psychological shocker.... This is not a conventional linear narrative; instead Hochgatterer presents... a disturbing collection of criminals and the mentally ill. Is the perpetrator of this horrific murder already known to Kovacs or is he one of Horn's patients? The grim tale is elegantly, subtly told in Jamie Bulloch's smooth translation from the original German."—Susanna Yage, The Sunday Telegraph

"You might say that, for Hochgatterer, the standard features of the crime genre are just a framework for the really interesting stuff: not how people die, but how they live. His rather abstruse approach makes this a fascinating but demanding read: a truly stimulating find, but perhaps not one for the beach."—Jonathan Gibbs, The Independent

"This is a scrupulous, serious novel, in which crime and detection, though convincing, are mechanisms allowing the author to examine the psychology of his characters... an impressive, cheerless tale."—Jessica Mann, Literary Review

"Beautifully written in cool, clear prose."—Scotland on Sunday

"[A] remarkable thriller . . . Skillfully mixing the observations of these two middle-aged kindred spirits-experienced enough to have lost their illusions, but not their humanity-with those of some of the more damaged townsfolk, Hochgatterer, himself a Vienna child psychiatrist, tells a suspenseful and shattering story with an elegance of expression that matches his exceptional insight into hearts and minds."

—Publisher's Weekly
MacLehose Press, 9781623658533
Publication Date: December 2, 2014
About the Author
Paulus Hochgatterer is a writer and child psychiatrist in Vienna. He has won sundry literary prizes and commendations, most recently the Elias Canetti Stipend of the city of Vienna.
The Sweetness of Life
is his first work to be translated. He is also the author of
The Mattress House
.
Jamie Bulloch has worked as a languages teacher and history lecturer, and is now a translator and freelance writer. He lives in south London with his wife and three daughters.
or
Not Currently Available for Direct Purchase