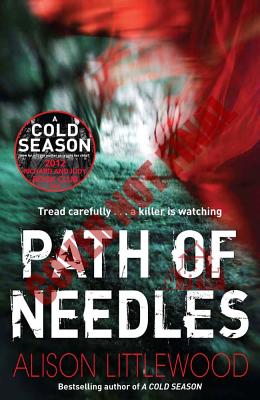 Path of Needles (Hardcover)
Jo Fletcher Books, 9781623658557
Publication Date: November 4, 2014
* Individual store prices may vary.
Description
Some fairy tales are born of dreams . . . and some are born of nightmares. Chrissie Farrell is young, beautiful and about to be crowned Queen of the Dance. But on the evening of her triumph she is abducted and murdered, her body left for the police to find.With no other clues, the disturbing way in which Chrissie's body has been posed has PC Cate Corbin at a loss - until university lecturer Alice Hyland is called in. An expert on fairy tales, Alice quickly notices a connection between the murder and an obscure version of Snow White.When a second body is found, Alice is dragged further into the investigation - and only then realises that she is becoming a suspect. Now Alice must fight, not just to prove her innocence, but to protect herself: because the body count is growing and it's looking like she might be next . . ."I loved Path of Needles. Dark but satisfying, like the best chocolate" --Elly Griffiths, bestselling author of The Dark Angel
About the Author
Alison Littlewood raised in Penistone, South Yorkshire, and attended the University of Northumbria at Newcastle. She started as a student of graphic design but "missed the words too much" and switched to a joint English and history degree. She pursued a career in marketing before developing a love of writing fiction. She now lives and writes near Wakefield, West Yorkshire. Path of Needles is her second novel.
Praise For Path of Needles…
"Trails of corpses, not bread crumbs, lead to terror in this captivating, psychologically complex hybrid of magical realism and police procedural . . . Crisp pacing and assured prose lend authenticity to a self-referential thriller that questions our values and the stories that define us."—
Publishers Weekly (Starred Review)
"I loved Path of Needles--dark and satisfying, like the best chocolate"
—
Elly Griffiths, author of The Ruth Galloway series
"
Path of Needles
quickly sets itself apart from the run-of-the-mill police drama. I can't recommend book or author highly enough."—
Reader Dad
"The way through the forest is definitely not clear, and it's never been more dangerous."—
Paul Kane
,
Sci-Fi Bulletin
"Littlewood sows the seeds of the murder mystery like Hansel and Gretel and their trail of breadcrumbs, allowing the reader to follow the path through the book to its tense and satisfying conclusion."—
Ross Warren
,
This is Horror
"A great crime-thriller, Path of Needles shows Alison Littlewood as a first class writer who--if she continues the level of quality and skill she's so far shown--will go a long, long way."—
Mark West, author of The Mill
"The fantasy elements provide a level of intrigue that elevates Path of Needles far above your standard serial killer fare . . . a truly gripping novel."—
Graeme Reynolds
,
Starburst magazine
"a definitive female voice in the horror genre."—
Black Gate
or
Not Currently Available for Direct Purchase