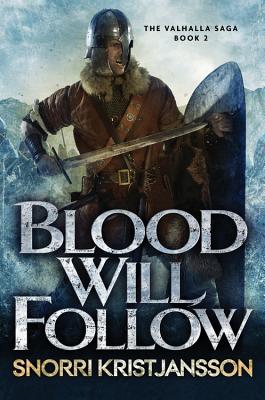 Blood Will Follow (The Valhalla Saga #2) (Hardcover)
Jo Fletcher Books, 9781623658724
Publication Date: January 6, 2015
* Individual store prices may vary.
Description
Starburst magazine called Snorri Kristjansson's Swords of Good Men--the first volume in the Valhalla Saga--"A cracking yarn (one that would make a great movie), filled with enough to satisfy any fan of Vikings and their mythology." Now this raucous and gripping fantasy adventure set in Viking Norway continues with Blood Will Follow, where plundering and pillaging are a way of life and creature comforts rarely exceed a mug of sour mead.
Ulfar Thormodsson and Audun Arngrimsson are battered, having barely survived the battle for Stenvik, waged between King Olav and the followers of the White Christ, and those whose allegiance remains to the gods of the Norse pantheon. Alas, the two Vikings' encounter with a mysterious witch just before escaping the town over the city's walls have left them without the one thing that made them human: their mortality.
While Ulfar heads home to Sweden, hoping to find a safe haven where he can come to grips with his newfound inability to die, Audun travels by foot to the south, searching for answers on the open road. But both men are about to discover that they cannot run from their destiny. King Olav has left the conquered town of Stenvik in the hands of his lieutenant so he can journey north, following the advice of the scheming healer Valgard, to hunt for the source of the Vikings' power.
Soon, Ulfar and Audun will realize they have important roles to play in the battle for supremacy between those seeking to spread the gospel of the White Christ and those who keep to the old ways of Odin, Thor, and Loki.
About the Author
Snorri Kristjansson is an Icelander, a writer and a teacher, with a background in acting, music and stand-up comedy. He lives in South London.
Praise For Blood Will Follow (The Valhalla Saga #2)…
"Fans of Gemmell will devour Kristjansson's books"—
Spec on Spec Fiction
Best Alternate History of 2014
"Snorri Kristjansson has really outdone himself . . . there is never a dull moment in the story. Snorri Kristjansson shows Vikings are pretty damn awesome! Bring on the next, I am hooked."
—
The Book Plank
"The magic is subtly woven into religion, and the world feels real and lived in . . . Kristjansson's humor is woven throughout the book in subtle, yet fantastic ways . . . Swords of Good Men have just about everything you'd want in an epic fantasy novel. It's genius execution . . . an almost unforgettable Viking saga set in a world that is more real, textured and layered than expected, peppered with characters that will make you laugh, and feel strongly.
Swords of Good Men is a solid start to a dynamic series and proves that Kristjansson is a force in the genre to be reckoned with."
—
Bookworm Blues on Swords of Good Men
or
Not Currently Available for Direct Purchase