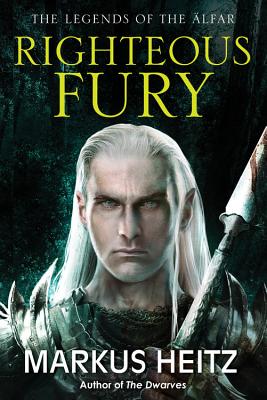 Righteous Fury (Legends of Alfar #1) (Hardcover)
Jo Fletcher Books, 9781623658830
Publication Date: February 10, 2015
Other Editions of This Title:
Paperback (2/9/2016)
* Individual store prices may vary.
Description
From the author of the bestselling fantasy series The Dwarves--which has sold over one million copies--come the dynamic new series The Legends of the Alfar. In Righteous Fury, the elves, dwarves and humans all know the alfar to be dark, relentless warriors. In Dson Faimon, the realm of the alfar, the warriors are planning a military campaign. Caphalor and Sinthoras are looking to enlist a powerful demon to strengthen their army - but the two alfar have very different goals. While Caphalor is determined to defend the borders of their empire and no more, the ambitious Sinthoras is intent on invasion: and he has the kingdoms of dwarves, elves, and me firmly in his sights.
About the Author
Markus Heitz is a German fantasy, horror and science fiction author of the bestselling fantasy saga The Dwarves. He studied history, German language and literature, and won the German Fantasy Award in 2003 for his debut novel, Shadows Over Ulldart.
Praise For Righteous Fury (Legends of Alfar #1)…
"Tolkien with a dash of Gemmell and a sprinkling of George R. R. Martin . . . an interesting approach to magic."—
Malazan Empire
"The prose is sharp, the action sequences bloody and all in this has been a real joy to read. Throw into the mix some cracking double-dealing, some political machinations and all in this series has been a pure joy from start to finish and definitely one I'd recommend to other fantasy fans."—
Falcata Times
"A Tolkienesque fantasy adventure novel needs a solid villain for the readers to loathe, and in Markus Heitz's Righteous Fury, we find a quite impressive one . . . If your bookshelf is already home to Tolkien, Martin, and company, Righteous Fury will find a comfortable spot to fit in."
—
Booklist
"driven by unrelenting action, [the book] springs to life through the vivid, vigorous writing"—
Kirkus Reviews
"Heitz keeps on delivering ... I would recommend Righteous Fury to everyone looking for exciting Tolkien-inspired fantasy"—
Upcoming4me
or
Not Currently Available for Direct Purchase